» 18th International Metrology Congress (CIM 2017, 19 – 21 September, Paris)
09 May, 2017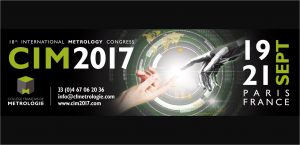 The 18th International Metrology Congress (CIM 2017), the annual meeting about R&D and best practices for measurement in industry, will be held between 19th to 21st September 2017 in Paris.
The Congress will showcase the latest developments and innovations in this area and will also discuss measurement, analysis and testing and the control of risks. 
EA in its role as the guardian of  the European accreditation infrastructure has been invited to participate in and facilitate a round table on "Measurement and conformity declaration: ISO 17025, what's new?" This is planned to take place on the 19th September between 9.00 - 11.00am. This round table ties in with the expected update of ISO/IEC 17025 which is due to be released in Mid 2017, where one of the main areas of change relates to concerns around the measurement of uncertainty and its use in declaring compliance. 
Trevor Thompson, Head of Operations Support for UKAS is also the UK BSI member of ISO CASCO WG44,  the international working group for the revision of ISO/IEC 17025 and is Vice-Chairman of EA's Laboratory Committee. Trevor is expected to talk about the revision of the standard ISO/IEC 17025 concentrating on main enhancements, namely  "Decision Rules", the use of "Option A and B" and "Risk Assessment".