» 2019 International Quality Awards
17 May, 2019
UKAS is delighted to be a leading sponsor of the CQI's International Quality Awards which will take place on November 27th 2019. UKAS' involvement with the awards is part of our continuing work with CQI to advocate accredited certification, and to communicate a better understanding of the role of the UK Quality Infrastructure (standards, conformity assessment, the national measurement system and accreditation) to underpin confidence and assurance across the economic spectrum. 
The awards are an important date in the calendar, as they celebrate the achievements of exceptional quality professionals and auditors across the globe. 2019 is also the centenary of the CQI, and the awards will be celebrate the quality profession's evolution over the last 100 years and its current role in the rise of emerging technology. UKAS will sponsor the headline award 'Quality Organisation of the Year'.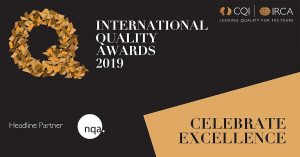 UKAS values its relationship with the CQI, as both organisations have a deep-seated commitment to quality assurance. As a UKAS member, we  highly value the input that the CQI provides into UKAS's strategic and technical policy to ensure that organisations embed quality in everything they do through strong governance, robust systems of assurance and continuous improvement.
Further information about the award categories and details of how to enter can be found on the CQI website.