» Accreditation: Delivering Confidence in Forensic Sciences
13 July, 2015
In forensic testing and analysis, it is vital that the services in question give accurate and reliable results.  The quality of forensic analysis has been underpinned by accreditation for almost 20 years.  The main purpose of accreditation is to determine, in the public interest, the technical competence and integrity of organisations offering testing and analysis services.
 In the UK, this service is provided by the United Kingdom Accreditation Service (UKAS), which has accredited some 1,500 laboratories since its inception in 1995.  One such laboratory is LGC Forensics, which has a wide range of forensic activities accredited to ISO 17025:2005, the internationally recognised standard for laboratory accreditation. 
 LGC Forensics was formed in August 2005, from the combined operations of two of the UK's major private sector suppliers of forensic services; LGC and Forensic Alliance.  Now boasting over 500 staff at 6 sites across the UK, LGC Forensics offers a complete range of services across all areas of mainstream forensic sciences, in addition to the more specialist areas.
 LGC was one of the first organisations to obtain accreditation for its forensic activities and the company has expanded its schedule over a number of years.  Harmonisation of all forensic activities across the company is being supported by the existing accreditation experience and has proven to be of great benefit when comparing and identifying methodology and practice.
 An increasing number of specifiers are stipulating the use of accredited services, whether as a legal requirement or a preferred solution.  Achieving UKAS accreditation will put laboratories in a better position to win such business, particularly government tenders.  Andrew Wilkins, Quality Manager, Systems Maintenance at LGC Forensics, said.  "Our business operates in a challenging environment, both from a commercial and technical perspective.  Work for police forces is subject to competitive tender and technical competence is a significant factor upon which the decision to award work is based.  By being independently accredited by UKAS we are able to demonstrate that our systems and procedures have been properly scrutinised and conform to industry best practices."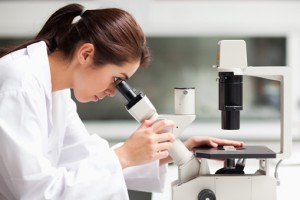 Consistently High Standards.
A forensic laboratory must encompass many scientific disciplines, all of which must work to the same standard to ensure that the highest quality of evidence is presented.  Wilkins said.  "Quality and a demonstration of technical competence are fundamental in an environment where work can influence court proceedings.  There is an unlimited number of different types of item that can be submitted for examination, ranging from swabs of bodily fluids for DNA samples, to train doors for graffiti paint comparison.  Each item has to be examined in a specific way.  With such a diverse number of items and processes, maintaining consistency of approach across the board is vital.  Our work is scrutinised by highly motivated professionals, whose purpose is to challenge not only the science behind the process, but every step of the forensic process from submission to reporting, from checking to competency.  The process of accreditation allows us to identify both potential weaknesses and highlight areas of good practice, and thus to provide confidence in our results and to present a robust defence to any challenge.  Going through the accreditation process has helped us to ensure that any evidence obtained is robust enough to withstand vigorous scientific examination."
 In addition to providing authoritative assurance of the technical competence of a laboratory to undertake specified analysis, accreditation also determines a number of other important factors; the competence of staff, the validity and sustainability of methods, along with the appropriateness of equipment and facilities.
Take it from someone who's been there
Kathy Clarke is Quality Manager for Systems Development at LGC Forensics and responsible for changes and improvements to the system.  She was involved in the application for ISO17025 accreditation from the outset, so is ideally placed to comment on the effects the process has had on the business.  "The path to ISO17025 accreditation presented some challenges, including helping to encourage some staff to consider the standard in every part of their daily work.  However, rising to and meeting this challenge has made the company more competitive and our technical activities more defensible in court.  This has proved such a success that we are continuing to expand the scope of our ISO17025 accreditation to other areas of the business."
 Clarke has some useful advice for laboratories about to embark upon the accreditation process.  "Firstly, take advantage of the pre-assessment visit, as this will help with understanding precisely what is expected of you to meet the standard.  Secondly, starting by having just a small number of testing activities accredited will allow you to gain invaluable experience of the process.  The lessons learned can then be brought to bear when putting other testing activities forward for accreditation.  Thirdly, where the same testing/calibration activities are performed over a number of different sites, it is worth considering applying for group accreditation.  This will help to identify any differences between the sites, which can be rectified to improve consistency.  It will also provide better flexibility in moving work and staff from one site to another without the need for retraining, thereby offering efficiency gains."  Another benefit seen is a reduced frequency and duration of UKAS assessment visits when one method can be assessed on a rolling basis at each site in turn.
 She continues.  "Stay focused on complying with the whole standard - it is all too easy to concentrate on only the areas highlighted as in need of improvement.  It is also important to remember that becoming UKAS accredited is not a one-off exercise.  It is a maintained standard that requires constant monitoring, but rewards that attention with the highest level of security and confidence in results.  Any changes to the business must be implemented in a controlled and documented manner and robust evidence must be maintained for required activities, which parallels and supports the approach to forensic casework.  Finally, achieving accreditation is a team effort requiring the support of the whole business, so everyone from the top down needs to be involved, acknowledged and encouraged.  Audit preparation meetings will raise awareness of the parts that each individual will play."