» Accreditation: Delivering Confidence in Forensic Services
06 July, 2015
Computer use – and therefore misuse – has the potential to leave a complex digital trail deep within the device.  The same applies to mobile phones and any other digital devices.  Should any misuse need to be investigated this digital trail could yield valuable evidence.  However, the method by which the evidence is handled is crucial, as only a forensic response can stand up to legal challenges in court
 In forensic testing and analysis one of the most important considerations is that the services in question give accurate and reliable results.  The quality assurance of forensic analysis has been underpinned by accreditation for almost 20 years.  Its main purpose is to determine, in the public interest, the technical competence and integrity of organisations offering testing and inspection.
Accrediting Forensic Science
The United Kingdom Accreditation Service (UKAS) is the sole national accreditation body for the UK.  It also represents the UK Government on accreditation internationally and accredits 1,500 laboratories and over 120 certification bodies.  Accredited conformity assessment is only given to organisations complying with the highest standards, demonstrating to the public that they can rely on the accuracy of results obtained.
 CCL-Forensics is one of the UK's digital investigation companies.  Its biggest client base is UK policing and law enforcement, although it does provide services to both the public and private sector.  The company's adherence to quality is maintained by following strict documented procedures under recognised standards: ISO 9001 (quality management), ISO/IEC 27001 (information security) and now, most crucially, ISO/IEC 17025 (testing laboratories) when carrying out these procedures.
 Each of these standards has a specific role to play in ensuring the quality of CCL-Forensics' work.  ISO 9001 reassures clients that documented quality procedures are followed, and that a quality management system is in place.  More importantly for a company which handles sensitive (and often criminal) data, ISO/IEC 27001 is fundamental to maintaining the highest level of data security.  The procedures followed under this standard ensure that data is not only handled correctly, but stored and archived in a way that minimises any loss or leakage of sensitive information.  The company insists on not only a high level of physical security, but robust personnel security – and all staff (including non 'hands-on' roles) are security cleared.
 CCL-Forensics' newest and by far most important accreditation is ISO/ IEC 17025, the general requirements for the competence of testing laboratories.  This is strongly recommended by the Home Office Forensic Science Regulator, who is instilling a very welcome tier of regulation to the digital investigation industry.  The company is now one of a small number of similar organisations to have attained this standard, and it provides an extremely useful and innovative unique selling point.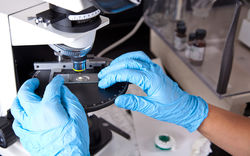 Benefits of Accreditation
The main benefit to being UKAS accredited to ISO/IEC 17025 is the immediate enhancement of the company's reputation and credibility in the marketplace.  It also enables CCL-Forensics access to a wider marketplace, particularly public tenders and contracts, as Dave Lattimore, CCL-Forensics' Total Quality Manager explains.  "The ability to tick the 'Do you have ISO/IEC 17025?' box, gives the buying authority the maximum level of confidence in CCL-Forensics as a supplier.  It also circumvents the need to justify the processes and procedures which are used internally, which is often a painstaking part of responding to tenders and RFQs.  Similar benefits exist when selling services on an ad-hoc basis, or when negotiating larger ongoing contracts."
 CCL-Forensics' customers are becoming increasingly aware of the regulation which is spreading through the industry and, therefore, the importance of procuring services from a properly accredited supplier.  Dave Lattimore continues.  "A significant number of organisations have indicated that, in the past, the cost of services has been the primary factor in procuring or outsourcing digital investigation services.  There has now been a sea change, where organisations are putting an increasing emphasis on accreditation, rather than just cost."
 There are also wide-ranging benefits to using UKAS accredited services as Dave Lattimore explains: "From the initial stages of them procuring our services (whether under a formal procurement process or not), purchasers have the confidence that certain processes will be followed.  This benefits our customers in that they are able to instantly validate our company against the quality standards.  Furthermore, when the company's services are executed, the various certifications provide reassurance of the one thing the customer ultimately wants – a quality deliverable.  CCL-Forensics' staff regularly have to give evidence in court or at tribunals and holding accredited ISO/IEC 17025 status minimises the possibility of complications in court arising from questions about the competency of our staff as experts."
Savings and Efficiency
Despite the cost to CCL-Forensics of attaining the standard, the regular audits of processes and procedures within the organisation mean that the company is able to realise efficiency savings to ensure there is no noticeable on-cost to the ultimate customer.
 In addition to the external benefits to clients UKAS accreditation has helped to streamline existing processes, as Dave Lattimore outlines.  "The process of attaining these standards, in particular ISO/IEC 17025 provides the company with an excellent level of discipline – something which is instrumental in the field of digital investigation.  The regular reviewing of all processes and staff competency provides an opportunity to constantly refine the processes to attain the highest standard of service.  This is especially beneficial in the digital forensics industry, where the complexity of devices requiring analysis, is increasing exponentially."
 The working relationship with UKAS is key to all the above benefits, as Dave Lattimore concludes.  "CCL-Forensics quality department liaises closely with UKAS, not just at the time of audits, but on an ongoing, strategic basis to ensure that the emphasis on quality is an inextricable part of the service provided."