» Accreditation embedded in the culture of independent radiology provider
03 May, 2017
The Medical Imaging Partnership (MIP) is a private radiology company, formed over 7 years ago by experienced Radiologists, Operational Managers and IT experts.  Together these experienced professionals offer a range of managed radiology services, professional services to radiologists and consultancy-based radiology department reviews.  Its business model is focused on building partnerships with all key stakeholders and developing efficient delivery pathways.  Together with its approach of 'getting it right from the beginning', MIP's model aims to enable clinicians to deliver the most effective radiology care possible.
Operating from 15 sites across the UK currently, MIP offers its services to both NHS and private organisations.  The market place for independent providers is highly competitive with stringent requirements regarding quality, reliability and safety.  In order to help distinguish itself from its competitors, MIP chose to apply for accreditation by UKAS which was achieved within eighteen months.
Accreditation is a patient-focused accreditation programme, jointly owned by the Royal College of Radiologists (RCR) and the College of Radiographers (CoR). It is designed to help diagnostic imaging services ensure that their patients consistently receive high quality services, delivered by competent staff working in safe environments.  The RCR and CoR have licenced the United Kingdom Accreditation Service (UKAS) to manage and deliver the assessment on their behalf.  Accreditation has been recognised by the Care Quality Commission and approved for use within its inspection methodology.
Explaining the reasons behind why MIP chose accreditation, Jenny Hill, Operations Director said: "We operate in the highly competitive 'Independent Sector' of healthcare.  Whilst this means we can be more flexible in our approach and offer potentially faster turnaround times, it's vitally important that there are additional quality standards in place.  Our customers, particularly those in the public sector, are looking for evidence of compliance with high quality standards validated by a reputable external source.
"Having UKAS accreditation helps us to prove that we operate robust and measurable methods of working, ensuring consistency of service delivery and that patients' expectations are met.  It is a voluntary standard so achieving UKAS accreditation shows our willingness to work hard for, and be assessed against, the highest standards of best practice in our industry."
Business benefits
Whilst going through the robust UKAS accreditation process can appear to be a challenging exercise, it can deliver many significant benefits to the organisation. In addition to providing a structure to work within, it focuses attention on the effectiveness of processes and procedures and ensures they are up to date.  Simon Oates, CEO said:  "Quality management systems and accreditation provide the foundations of our business and its ethos is embedded in the culture of our organisation.  This has a wider snowball effect within MIP as we use findings from UKAS assessments and apply them to other areas of the business that can be improved, adding value and increasing quality and efficiency. 
Simon Oates continued: "By being a recognised 'badge of quality', accreditation also enhances our reputation, and makes it easier for us to attract high quality staff as it demonstrates our commitment to staff development and training."  MIP has been able to utilise the reputation of its accredited MRI service to grow its business with existing local CCG customers, resulting in it providing extended imaging and diagnostic testing services and modalities, such as mobile DXA.
Putting patients first
All healthcare services aim to improve the patient experience and ensure that they remain at the heart of the process.  Whilst the financial and operational benefits of achieving accreditation can be objectively quantified, the improvement to patient experience is a more subjective area so can be relatively hard to establish.  To help MIP measure its patient experience, it carries out six-monthly Patient Satisfaction Surveys, seeking the opinions of on average 350 patients per month who are having MRI, ultrasound and X-Ray examinations across all of its sites.
Commenting on the value of conducting the surveys, Phoebe Cowham, Quality and Compliance Manager, said: "Together, these surveys provide a regular and consistent measurement of how our patients feel about our service over a period of time, identifying what we're doing right and indicating areas for potential improvement.  Since being granted accreditation we've received consistently higher ratings and more positive comments from our patients.  Not only has this been useful to demonstrate our service levels when tendering for new business, but it has led to a boost in staff morale, as the results and comments are circulated internally."  MIP also provides relevant results back to the NHS Trusts, enabling them to improve their own facilities and services, for example where patients report difficulties with parking.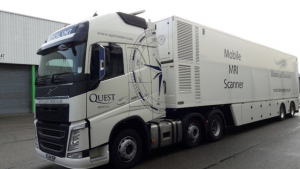 The latest mobile MRI scanner, a 1.5T Siemens Avanto, delivered in March 2017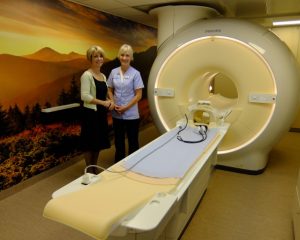 Vanessa Brown, Imaging Manager and Gillian Phillips, MIP MRI Manager,
with MIP's first trans-locatable scanner, a 1.5T Philips Ingenia at the Horder Centre in Crowborough, East Sussex.