» Audiology Services amongst the best in the country
15 November, 2016


Pennine Care NHS Foundation Trust offers a wide range of both adult and paediatric audiology services to patients in the Bury, Oldham, Heywood, Middleton and Rochdale areas.  The harmonised team of 42 clinical and 10 administrative staff operate specific clinics for assessment, rehabilitation, tinnitus and balance services across 13 different sites and include domiciliary visits.  Together this makes it one of the most comprehensive audiology services that has been accredited by the United Kingdom Accreditation Service (UKAS).
At the end of 2013, the trust's audiology services were amongst the first in the country to achieve UKAS accreditation against the Improving Quality in Physiological Service's (IQIPS) standard.  At the time, only 17 audiology services in the country had IQIPS accreditation, and the team at Pennine Care was only the second nationally to be awarded a 'good' rating.
The assessment process involved Pennine Care submitting a significant amount of evidence in the domains of patient experience, facilities, resources and workforce, safety and clinical quality.  This was followed by four UKAS assessors visiting all sites, over a three day period, to assess first-hand how the service operated and delve into its clinical governance practices.  At the end of the successful assessment process, the teams were highlighted for their high standard of care, involvement of patients and the third sector, provision of enhanced practitioners and strong leadership.
Making a lasting difference
Accreditation is more than simply a certificate to hang on a wall, or a one hit wonder.  Rather accreditation is a continual process, based on a four year cycle and administered through annual assessment visits.  Three years on, and Pennine Care NHS FT is still reaping the benefits of both being accredited and going through the assessment process itself.
Deborah Rose is Audiology Service Lead at Pennine Care, and is ideally placed to gauge the impact accreditation has had on the trust, the audiology department and its patients.  "The achievement of UKAS accreditation to the IQIPS standard, acts as a benchmark of a good quality service which has been independently assessed against recognised clinical standards of best practice.  Not only does this 'badge of quality' give our patients confidence that they are receiving a good quality service, but there are operational benefits for the trust too.  Firstly, it enhances our reputation with healthcare commissioners, and also supports CQC inspection requirements.  Not only does this help us to meet all governance targets, it means we can be an AQP provider.  Secondly, staff are encouraged and motivated to maintain high quality standards as it helps generate a sense of professional pride and enhances their standing within the profession.  In turn, staff are able to share best practice with other services, improving the Trust's quality performance across the board."
Far from being an exercise in box ticking, preparing for accreditation assessment allows the busy practitioner to take a step back and take a different perspective on the day to day activity, as Deborah Rose explains.  "The system of accreditation supports self-analysis and enables you to delve deeper into the services you provide.  It makes you think differently about the service, highlighting any gaps and allowing you to tighten up procedures by improving SOP and policies."  Some of the procedural improvements Pennine have implemented include the establishment of a clinic, the setting up of an SOP that specifies all the necessary health, safety and security measures required, and the introduction of emergency folders across all sites.  Policy has also evolved, resulting in the development of a 'roles and responsibilities' document throughout the Trust, as well as peer-review assessments for the audiology department.
All change please
Accreditation assessment reports can act as a much needed leverage for change.  Deborah said.  "Our services have improved as a direct result of going through the IQIPS assessment process.  We've enhanced audiology services for tinnitus, dizzy patients, suction clinics and patients requiring MRI scans.  As a result, last year we were able to successfully manage 94% of patients within the audiology department that would previously have been referred to ENT.  The department is currently trialling Flo Texting as part of the vestibular rehabilitation pathway and the initial indications are that patient outcomes are improved.  We've also been able to implement increased training across the service in respect of both dementia care and the 'Thumbs Up Certificate' for patients with a learning disability."
Looking at the wider picture, Pennine Care has also been able to establish a community working group involving patients, and the third sector and fellow professionals, to support service development and direction.  This provides assurance that the service is designed around the patient with input from all the key stakeholders.
Facilities have also seen an improvement, as Deborah goes on to outline.  "For patients, we have added additional panic alarms and loop systems into our facilities and improved noticeboards in our waiting areas.  Following the introduction of comments forms, these notice boards also now display 'you said, we did' patient satisfaction results and feedback.  This helps us demonstrate that we are listening to our patients (no pun intended!), increasing their confidence in the services we provide for them.  Overall, UKAS accreditation of our audiology services has been a great benefit for the Trust, our commissioners, the audiology services themselves and most importantly, our patients."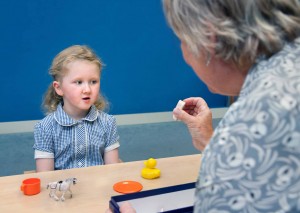 McCormick Test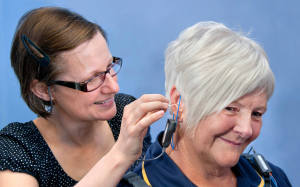 REM fitting