» Avoiding sleepless nights with IQIPS accreditation
06 December, 2016


Earlier in 2016, University Hospitals Coventry and Warwickshire (UHCW) NHS Trust became the UK's first respiratory and sleep services provider to gain UKAS accreditation under the Improving Quality in Physiological Services (IQIPS) programme.
IQIPS is hosted by the Royal College of Physicians' (RCP) and sponsored by Professor Sue Hill, Chief Scientific Officer at NHS England.  It aims to improve service quality, care and safety for patients undergoing physiological diagnostics and treatment.  Independent assessment and accreditation is a key part of the IQIPS Programme, and the United Kingdom Accreditation Service (UKAS) has been contracted by the RCP to deliver the national assessment and accreditation service for the programme.  UKAS accreditation underpins confidence across a range of healthcare services, assuring the public about the quality of services that patients receive.
UHCW is one of the largest acute teaching Trusts in the UK, comprising University Hospital in Coventry and the Hospital of St Cross in Rugby.  The Department of Respiratory Physiology and Sleep is a relatively large department within the Trust.  Its team of 21 staff includes clinical scientists, physiologists, assistant physiologists, nurses and administration staff who offer diagnostic and therapeutic investigations across both sites.  In addition it provides services at satellite clinics in the Coventry city centre and in local prisons. The department has been actively supported in the course of its development by Respiratory Physicians, Professor David Parr and Dr Asad Ali, who provide the necessary medical leadership.  It also runs an annual patient support group event for patients using continuous positive airway pressure (CPAP) for obstructive sleep apnoea (OSA).
The Respiratory and Sleep unit provides a full range of respiratory diagnostic services, including lung function testing, challenge testing, muscle function, field exercise testing and cardiopulmonary exercise testing.  Its sleep-disordered breathing service diagnoses and treats patients with conditions like OSA and obesity hypoventilation.  It is also provides the home oxygen assessment service for patients in Coventry and Rugby.  Although it predominantly offers services to adult patients, the department occasionally sees a small number of children, mainly those diagnosed with Cystic Fibrosis.
Quality Recognition
In addition to successfully meeting all of the 26 IQIPS standards, areas of exceptional practice were identified across all four domains of the IQIPS standard; Patient Experience, Safety, Clinical and finally Facilities, Resources and Workforce.  Achieving UKAS accreditation to the IQIPS standard recognises the department's compliance with the standards benchmark, as well as the high quality care it offers to patients.  Becoming the first service of its kind to receive IQIPS accreditation has given the department a unique perspective of the benefits IQIPS can bring to the department, staff and most importantly patients.
Joanna Shakespeare, Respiratory and Sleep Service Manager at the Trust said: "Every member of the team has actively contributed to the IQIPS accreditation process and we have seen the improvements that it has made to our service.  Prior to starting the accreditation process we felt that we were providing a good service to our patients.  However by undertaking self-assessment and accreditation we identified gaps in our policies and procedures that we were previously unaware of.  The IQIPS assessment process forced us to address these gaps, and as a result our high quality service is much more patient focused than it was previously."
Continuous Improvement
UHCW received UKAS accreditation following a comprehensive review of all policies and procedures within the Respiratory and Sleep department.  This included a two day visit by the inspection team comprising assessment managers, technical/professional assessors and patient /lay representation.  However, rather than being a one-off snapshot of compliance checking, UKAS accreditation is a continuous process, operating around a four year cycle of annual inspection visits.  This has long term benefits for the Trust and its patients, as Joanna explains.  "Accreditation ensures quality standards in the department and in the results that we produce.  Our journey to IQIPS accreditation has enabled us to facilitate the introduction and development of policies and procedures that continually assess, modify and improve quality within the department.  It means that through competency assessments, peer review and auditing of results, we are constantly evaluating our service to ensure best practice is implemented.  It is not an easy process and can be time consuming but ultimately it means that our service keeps improving and is more patient-focused, which is the ultimate goal."
IQIPS is the only accreditation standard applicable to Respiratory and Sleep Physiology services and Joanna is keen that it becomes adopted across the country.  She said: "As a department we are really proud to be the first, and so far only respiratory and sleep department to complete the IQIPs accreditation process.  This has raised the profile of the department within the Trust, with local commissioners and within our professional group.  We hope that we can be the flag bearer to encourage similar departments at other Trusts to follow down the IQIPS route."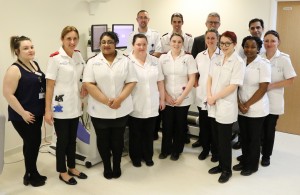 Front row (L-R): Shannon Hooper, Joanna Shakespeare, Trishandeep Matharu,  Diane Clarke,
Lynsey Archer,  Natalie O'Reilly, Gemma Cramp, Busola Ademola, Leanne Goodyear
Back Row (L-R): Christopher Reeve, Iuri Mata, Prof David Parr, Dr Asad Ali
Team members not in the photo: Danielle Fox, Hayley Bethel, Michelle Goodlad, Rhea Fielding, Cath Gilsenan, Vida Kidger, Stewart Manning, Elizabeth Dobson, Edward Parkes, Enya Greer