» BMUS Ultrasound ASM 2019
20 November, 2019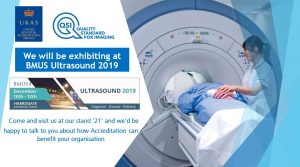 The British Medical Ultrasound Society (BMUS) will be holding their 51st Annual Scientific Meeting in Harrogate on 10th - 12th December 2019. 
For this year's meeting there are several special education streams running alongside the main programme, delegates attending Ultrasound 2019 on the respective dates are able to attend these sessions free of charge.
UKAS will be attending this event as part of the Technical Exhibition to showcase UKAS healthcare accreditation, particularly diagnostic imaging accreditation through the Quality Standard for Imaging (QSI). 
Further information about this event along with an outline programme and details of how to register can be found on the BMUS website. 
The influence and use of UKAS accreditation in the Healthcare sector is growing. UKAS accreditation is now also available in the areas of Physiological Sciences (IQIPS), Medical Laboratories, Point of Care Testing, Medical Physics and Clinical Engineering (MPACE) and Quality Assurance of Dental Providers. Further information about UKAS accreditation for Healthcare services can be found here.  
Further information: