» Carter Retail Equipment – Trusted by the World's Largest Food Retailers
06 March, 2015
For as long as there have been supermarkets in Britain there have been Carters refrigerated cases being manufactured in Birmingham with the original company being formed in 1945 by the late John Carter DFC.
 Today, Carter Retail Equipment Ltd is part of the Carter Thermal Industries Group and employ's just under 200 permanent workers to provide its customers with a total solution for refrigerated display equipment and back of house cold storage. The company has grown to become one of the most substantial and respected privately owned engineering groups within the UK.  It is also widely recognised as one of the world's leading suppliers into this field offering a complete service to customers including off the shelf and bespoke production, project management, installation and after-care.
Integral to this growth is its investment in R &D, with the group's manufacturing operations combining engineering expertise with innovation to remain at the leading edge of technology. In today's commercial world with a focus on sustainability, Carter's design engineers incorporate the latest technologies to provide efficiently controlled systems that are environmentally efficient. Within the business there is a focus on continual innovation and investment to develop the next environmentally beneficial refrigeration products that are eco-friendly and foster longer term sustainability.
 Since its inception, Carter's has built up a pedigree within the retail environment supplying into the majority of food retailers in the United Kingdom. Over the last few years they have successfully expanded their customer base to supply their range of products into Thailand, China and Australia.
Quality Management System drives continuous business improvement and customer confidence
 Underpinning the success of the business is its compliance with ISO 9001: 2008 Quality Management System, quality certification Carters has worked to since 1994. Carters believe it is important to work to ISO 9001 as it drives continuous improvement in all areas of the business and ensures that all processes and activities are consistently implemented, achieved and controlled within the Group. This in turn leads to business cost efficiencies and provides the management team with a cohesive reporting procedure. Indeed Carters believe this certification also enables the business to meet and exceed company objectives, its targets and organisational goals.
 As the company continues to grow and expand into global markets the ISO 9001: 2008 certification provides customers with additional confidence in the quality of the products and service produced by Carters, and has been proven to lead to repeat business wins. Indeed, working to such a robust internationally recognised management certification standard has also proven to attract new business and new customers from within the UK and internationally. 
 Recently they have extended their scope of certification to include the Cold Stores area of the business. With this extension to scope, ISO 9001 supported the business management processes and systems that needed to be put in place to update this area of the business and establish a culture of continuous improvement.
 Carters appointed BSI as its certification body because it is established, it's also a recognised global brand and a certification body that is UKAS accredited. Carter Retail Equipment's Quality Manager, Clare Peirce said, "It's important to us to use a UKAS accredited body as we then know that they are scrutinised and follow nationally, and internationally agreed policies and procedures. UKAS are also subject to government controls and are recognised by other countries".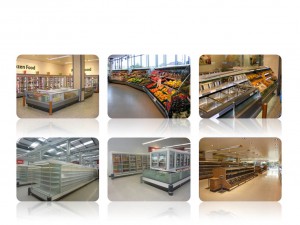 Leading the way in environmental technological advances within refrigeration
 With a business that is continuing to focus on sustainability and environmental efficiencies, Peirce said, "Carters is aiming to get certified to the latest ISO 14001 Environmental Standard by the end of 2013. Again we will be choosing to use a UKAS accredited certification body as it brings all the reassurances of regulation within the UK market and on the international trade front".
 Indeed their focus on supporting a commitment to sustainability earned them Industry recognition as Carters were announced winners of the 'International Achievement of the Year' Award at the 2012 RAC Cooling Industry Awards. The award was in recognition of their Water-Cooled Hydrocarbon Refrigeration Solution display cabinets which had been installed in Tesco's zero-carbon store in Thailand. The units were manufactured on site in Birmingham and then shipped to the Thai store via container ships. Carters engineers were on site locally to project manage the installation and train up local engineers who will be servicing the cases.
 Carters have extended their bespoke manufacturing service to China. Working closely with their client Tesco, Carters designed, tested and approved display cabinets including Multidecks and Frozen Food full glass doors in the UK, prior to them being manufactured and then installed by a local partner across seven stores in various Chinese Provinces.
 Carters has also been working closely with Waitrose, assisting them with their commitment to reduce the impact of refrigeration and cooling direct emissions by 50% in 2013. During 2012, Carters Engineering Manager worked closely with the Waitrose Management team prior to the launch of its new Stratford Upon Avon store, which was opened in July 2012. Working in collaboration with Waitrose to meet their strict specifications, Carters manufactured and installed low-carbon propane-based, water cooler refrigeration cases. Integral to this installation was the trial of a new specification of LED lights in all the high temperature cases, transforming the customer journey at the store.
 Carters continue to embrace certification that enhances their organisational processes and helps them to meet key business objectives. In addition it provides added value to their existing customer base and is key in attracting and winning new tenders for business. With continued expansion plans both in the UK and abroad, compliance with internationally recognised standards demonstrates a consistency of approach and a quality led organisation.