» Combating Legionella Conference: 14 – 15 September 2017, Villa Park, Birmingham
08 May, 2017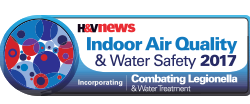 Indoor Air Quality & Water Safety 2017, incorporating Combating Legionella & Water Treatment is a comprehensive conference that provides essential updates on regulation and litigation best practice and debates the challenges facing risk assessments and compliance in the UK. This year the conference will be discussing future changes in maintaining indoor air quality (IAQ) and water systems. The conference brings together duty holders, building managers, facilities managers, engineers, water specialists and regulators to discuss the prevention of Legionella, Pseudomonas and other waterborne bacteria and compliance with water safety regulation.
UKAS will be attending the 14th annual conference taking place on 14th - 15th September 2017, at Villa Park in Birmingham, to highlight the importance of UKAS accreditation in this area. To find out more about accreditation against ISO/IEC 17020: 2012 for Legionella Risk Assessment, you can read the guide, 'Delivering confidence in the provision of legionella risk assessments' which contains useful information about current UK Health and Safety law, ISO/IEC 17020: 2012 and outlines why companies choose to become UKAS accredited. It also features a helpful FAQ section which provides more detail about the accreditation process.
Please visit the Indoor Air Quality & Water Safety 2017 conference website for further information about the programme and delegate packages.
We look forward to seeing you when you visit the conference, do visit our stand in the main hall to discuss your requirements.