» Exova: Accredited testing in support of rail safety and infrastructure
16 June, 2017
Exova is one of the world's leading laboratory-based testing groups, trusted by organisations to test and advise on the safety, quality and performance of their products and operations.  Headquartered in Edinburgh, Exova is a global organisation with offices in 33 countries, a workforce of around 4,200 people throughout Europe, the Americas, the Middle East, Asia/Asia Pacific and Africa and 136 laboratories operating around the world.
With over 90 years' experience, Exova specialises in testing across a number of key sectors ranging from Aerospace to Fire & Building Products; Oil & Gas and Industrials; Infrastructure & Environment; Transportation; and Health Sciences.  To help demonstrate to clients its commitment to quality and adoption of industry best practices, Exova's laboratories are accredited by The United Kingdom Accreditation Service (UKAS) to the internationally recognised ISO/IEC 17025 laboratory testing standard.
Crossing borders
Navigating different national regulatory regimes can be a stumbling block for many UK companies, especially when dealing with testing requirements in a global supply chain.  As the UK's national accreditation body, UKAS is a signatory to the International Laboratory Accreditation Cooperation (ILAC) multilateral agreement.  This ensures that the status of UKAS accredited laboratories is recognised in over 90 different economies across the world, significantly reducing the cost of global compliance.  With such a diverse international base, this 'tested once accepted everywhere' approach has been of particular benefit to Exova, as Roger Digby, Group Technical Director, explains: "As a full member of ILAC, UKAS accreditation is recognised internationally, enabling Exova to provide testing services from Centres of Excellence across the Group with complete confidence that the results generated will be internationally accepted.  This is essential in today's global economy where relevant Sector Scheme accreditations are a prerequisite."
On the right track
Recently Exova has been involved in some high profile projects within the areas of rail safety and infrastructure, where its UKAS accreditation was a significant factor in developing customer confidence and the successful delivery of the projects.  In the UK, Exova provided specialist fire testing services in support of Hitachi Rail Europe's project to deliver rolling stock for the government's £5.7 billion Intercity Express Programme.
Fire testing of structural materials, including coated steel and coated glass reinforced plastic, interior upholstery and flooring materials was provided by Exova Warringtonfire.  In addition to fire resistance testing of doors and floors, the range of reaction to fire tests included spread of flame, heat release, smoke density and toxicity.  The testing was conducted on the next generation Class 800/801 trains as part of the programme to upgrade the Great Western Main Line and East Coast Main Line rolling stock.
Safety is Hitachi Rail's safety primary consideration when designing new rolling stock and accredited fire testing is a critical element in its design programme. Exova Warringtonfire worked with Hitachi Rail on the Class 395 Javelin™ trains project for the Channel Tunnel Rail Link and Exova's UKAS accreditation provides confidence that the same exacting fire testing standards are applied to projects such as this.
Unlike certification, which relates to the organisation as a whole, accreditation applies to a specific activity, such as testing.  Furthermore, the ISO 17025 testing activities themselves are tightly defined, meaning each individual test has to be assessed before it can appear on the company's schedule of accreditation.  Commenting on the wide range of activities that can be accredited and the effect this has had on Exova's business, Roger Digby said: "UKAS is able to accommodate the technical and geographical diversity of our business and accreditation to ISO/IEC 17025 by UKAS for our laboratory and site based testing is a key differentiator for us in the geographies in which we operate."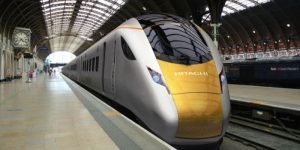 Hitachi Rail
A concrete base
Further afield, Exova played a key role in testing the infrastructure for the first ever Metro system in Dubai.  This was an extensive project, with testing covering 75km of track, 5km of tunnels and a total of 47 stations above and below ground.  A total of 5,200 precast concrete tunnel segments and 16,000 concrete viaduct segments were required for the project.  Exova's main Dubai laboratory already held UKAS accreditation to ISO/IEC 17025 for concrete testing.  However, to ensure the more stringent quality standards were adhered to along the entire length of this project, a decision was made by Exova to apply for UKAS accreditation for its mobile site testing facilities.
During the construction of the Dubai Metro, Exova conducted testing of the concrete from its main Dubai laboratory as well as from 6 sites and 12 mobile laboratories, each strategically located along the route of the Metro to ensure that samples were cured at the temperature stipulated by the applicable international standard.
Roger Digby concluded: "This focus on quality and technical integrity, supported by UKAS accreditation to ISO/IEC 17025, provided the ultimate client, Dubai Roads and Transport Authority with confidence in Exova's approach to ensuring that the materials used in the construction process were compliant with the required specification."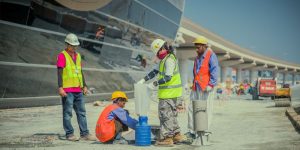 Dubai Metro Project