» Healthcare Accreditation: Speaking with one voice
11 April, 2016
Sheffield Teaching Hospitals (STH) is one of England's largest and busiest NHS foundation trusts, providing a full range of hospital and community services for the local population, as well as specialist care for patients from further afield.  In 2012, Clinical Managers in GI Physiology at Salford Royal Hospital (Elisa Skinner), STH (Lynne Smith) and Hull (Warren Jackson) took part in the Improving Quality in Physiological Services (IQIPS) pilot assessment at Salford.
The IQIPS programme is sponsored by Professor Sue Hill, Chief Scientific Officer for England and hosted by the Royal College of Physicians (RCP).  Accreditation is delivered and managed by The United Kingdom Accreditation Service (UKAS).  One of the chief aims of the IQIPS programme is to raise the profile of physiological services across organisations, with commissioners and patients alike.  At the same time, IQIPS seeks to validate and recognise success as well as drive up quality, by aspiring towards excellence and the sharing of good practice in physiological services.
Upon successful completion of the pilot programme at Salford, Lynne used that experience to start working towards accreditation of the GI Physiology department at the Northern General Hospital, the largest hospital campus within STH.  Based in General Surgery, the GI Physiology department's 12 staff is made up of Clinical Scientists, Clinical Physiologists, Trainee Clinical Scientists, Associate Practitioners, Apprentices and a Clerical Officer.  Together, the team deliver a wide range of investigations to Colorectal surgery, Upper GI Surgery, Gastroenterology, Respiratory and ENT services, both within the Trust and to the South Yorkshire and North Derbyshire region.  Patients present with a range of conditions including incontinence and pelvic floor dysfunction, gastro-oesophageal reflux disease, swallow disorders, malabsorption, small bowel disorders and rectal cancer.  The department performs a wide range of both pre- and post- surgery tests, as well as offering therapeutic and counselling services.
Demonstrating competence generates confidence
STH is proud of the service it offers to patients; it sits in the top 20% of NHS Trusts for patient satisfaction and has been awarded the title of 'Hospital Trust of the Year' in the Good Hospital Guide three times in the space of five years.  Accreditation helps the Trust maintain these high standards which is crucial to the Trust's professional future, as Lynne explains: "Accreditation to the IQIPS standard demonstrates to patients, colleagues and commissioners that we have the evidence of the quality standards required to provide the service and the training in GI Physiology.  As the only centre in the region that provides the full range of GI Physiological Diagnostics then it could be argued that it is like it or lump it presently.  However, the threat of other providers from outside the NHS competing for the provision of service means we cannot take our current status for granted."
Lynne continues: "It is so important to show to commissioners that we are definitely the centre of excellence and that the best and appropriate care of their patients is our priority.  IQIPS accreditation is a huge selling point for the service if we are to remain as the tertiary referral centre for South Yorkshire and North Derbyshire.  Accreditation is the evidence that we do strive to be the best and we are careful to give the best care, in the best environment with all the staff being proud to be part of the GI team."
 There's no (G)I in Team
IQIPS has been developed to improve, promote and recognise good quality practice across eight physiological disciplines within the IQIPS programme; audiology, cardiac physiology, gastrointestinal physiology, neurophysiology, ophthalmic and vision science, respiratory and sleep physiology, urodynamics and vascular science.  STH is one of the first NHSFTs to take a collaborative approach to accreditation, as Lynne explains:  "With the long established network of Healthcare Scientists in Physiological Science Groups at STH, it became clear that a collaborative approach to accreditation of STH Physiological Science would benefit more than just the GI services.  The Trust was supportive of this approach and the 7 disciplines of the STH Physiological Science Group applied to UKAS in 2014."
Adopting this unique approach to IQIPS accreditation was a challenging, yet worthwhile experience as Lynne explains.  "All physiological science services at STH have found that working collaboratively has proved to be a very supportive and rewarding way to go about what might be seen as a daunting process.  Each department has shared their experiences, supported smaller areas and given feedback to the IQIPS team. We can continue to help other services with their evidence, share our experience and generally be a source of advice if and when required."
This has had the knock-on effects of boosting both the morale and the reputation of the GI team within the physiology department.  Lynne continues: "The submission itself was hard work, and to see how the GI team came together to help with gathering evidence and uploading the data, made me very proud to see a really good team develop even further!  On the IQIPS assessment days, everyone, whatever their grade or role was involved and all made a significant contribution to the process and the visits."
There were other initially less obvious internal benefits that revealed themselves during the IQIPS assessment, as Lynne concludes:  "Some of the benefits of going through the IQIPS accreditation process were a surprise to us all.  It helped all staff at all levels understand the importance of an audit; now they are all confident in undertaking the process and quality audits are included as a learning outcome for our apprentice.  We all thought we provided excellent services for our patients, but a few unexpected positive and negative surprises came out in the feedback.  We will use this invaluable experience to help us continually improve and refine our service to patients, ensuring they continue to receive the best care possible from one of the leading GI Physiology departments in the UK."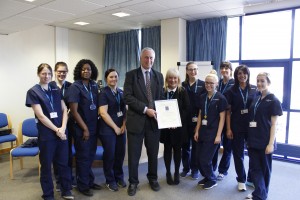 Tony Pedder OBE, Chairman with Lynne Smith, Clinical Manager and the GI Physiology Team