» ILAC Mutual Recognition Arrangement (MRA) report 2018
13 June, 2019
The ILAC MRA 2018 Annual Report has just been published on the ILAC website.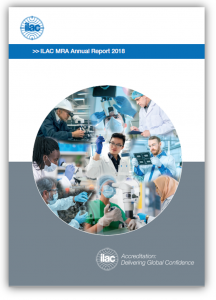 As in previous years, it provides information on the activities carried out as part of the peer evaluation process in 2018 in order to ensure that both regulators and consumers of laboratory and inspection data, are able to maintain confidence in the results produced under the ILAC MRA.
In addition, the 2018 years report includes information on transitions periods for international standards, links to websites with case studies demonstrating the use and value of accreditation and the theme for World Accreditation Day in 2018 focusing on how accreditation delivers a safer world.
The ILAC MRA 2018 Annual Report is available at http://ilac.org/publications-and-resources/ilac-promotional-brochures/
ILAC facilitates trade by operating a worldwide mutual recognition arrangement among accreditation bodies, in order that the data and test results issued by laboratories, inspection bodies, proficiency testing providers and reference material producers, accredited by ILAC Accreditation Bodies members, such as UKAS, are accepted globally. This provides assurance to the market that UKAS accredited services are worthy of confidence, need not be duplicated, and should be accepted throughout the market. Therefore, strengthening international trade, enabling UK exports to be accepted worldwide and imports to be accepted in the UK as meeting the specified technical requirements.
Further information: