» IQIPS Accreditation: Getting to the heart of patient care
05 May, 2017

The Vascular Assessment Unit (VAU) at Portsmouth Hospitals NHS Trust diagnoses an array of blood flow disorders such as arterial narrowing and deep vein thrombosis using specialised ultrasound scans.  Operating out of a purpose built department within The Queen Alexandra Hospital, the VAU's team of 11 staff is made up of vascular scientists, nursing, administrative and support staff and forms a key part of the surgery and cancer Clinical Services Centre.
Completing around 7,000 ultrasound scans per year, the VAU sees in-patients from most specialities within the hospital, as well as out-patient referrals from Vascular Consultants, Oncology, Dermatology, and the stroke, fracture and ambulatory clinics.  Highlighting the important and integrated role the VAU has within the hospital Dr Alison Charig, Head of the VAU said:  "We work very closely with our medical and nursing colleagues and our diagnoses are often the only method of assessment needed to decide if or when surgery is appropriate for a patient."  The majority of its ultrasound scans are for imaging of the carotid artery in the neck for mini-stroke patients and imaging of leg veins and arteries to diagnose blood clots and atherosclerosis.
Following three years of hard work in developing and improving its service, the VAU achieved IQIPS (Improving Quality in Physiological Services) Accreditation from The United Kingdom Accreditation Service (UKAS) in October 2016.  Sponsored by Professor Sue Hill, Chief Scientific Officer at the Department of Health, the Royal College of Physicians' IQIPS framework has been developed to improve, promote and recognise good quality practice across eight physiological specialisms within the IQIPS programme; audiology, cardiac physiology, gastrointestinal physiology, neurophysiology, ophthalmic and vision science, respiratory and sleep physiology, urodynamics and vascular science.
The VAU is only the second provider of vascular diagnostics (and the first solely managed and staffed by NHS employees) to gain this UKAS accreditation under the IQIPS programme.  Explaining the importance of this achievement, Alison said: "The IQIPS accreditation scheme is an important assurance of quality and commitment to continuous improvement for our organisation, patients and staff."
The voluntary IQIPS scheme is now approved by the Care Quality Commission (CQC) for use in its hospital inspection methodologies.  But beyond ticking regulatory compliance boxes and making CQC inspections less fraught, going through the UKAS accreditation process has had other operational benefits for the VAU.  Alison said: "Through a combination of patient feedback surveys and comments from our medical colleagues we knew that we provided a good quality service before we achieved IQIPS accreditation.  However, prior to embarking on IQIPS , not all of our processes were clearly documented or audited, owing to us being a relatively small team with a high clinical workload.  It became apparent from the outset that in order to meet the IQIPS standard we were going to have to increase our levels of staffing through training and devote more time to service improvement.  Three years of hard work later, we have increased the numbers of qualified staff, introduced robust, documented processes and an internal audit process to regularly check that we are following those processes."
Alison continued: "We have a quality assurance programme both for our ultrasound machines which picks up issues that can be resolved before machines breakdown, and also to ensure that patients get the same diagnosis, irrespective of the staff member carrying out the ultrasound scan.  Responsibility for development of these systems has been shared out amongst the Vascular Scientists, according to their particular areas of expertise, and has enabled them to develop as individuals, and to also fulfil various competencies as they work towards Health & Care Professions Council (hcpc) registration.  We have a very dedicated and supportive workforce who enjoy working together, therefore staff turnover is very low."
IQIPS accreditation is seen as a prestigious 'badge of quality' within hospitals and the Vascular profession and the VAU are keen that other departments and providers also apply for the scheme.  Alison said: "We are very grateful to the Portsmouth Audiology department who also recently achieved IQIPS accreditation.  Their help and advice was invaluable, and together we are encouraging other departments within the Trust to also seek IQIPS accreditation."  The VAU's staff members sit on a variety of professional committees and participate in National Vascular Conferences.  Alison continued:  "We are also sharing our experiences of going through the accreditation process with our vascular colleagues nationally through the submission of articles to our profession's newsletter."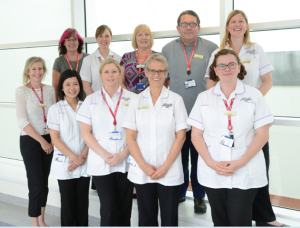 The Portsmouth Vascular Assessment Team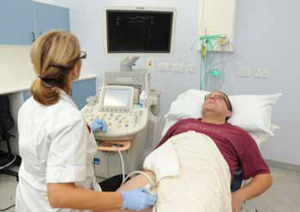 Penny Gill, Senior Vascular Scientist and Don Veal, Vascular Assistant demonstrating a vascular ultrasound scan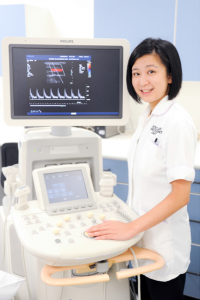 Ming Yeung (Vascular Scientist) with one of our ultrasound scanners