» IQIPS at the heart of Sheffield Children's Hospital Hearing Services
06 December, 2016

Sheffield Children's Hospital (SCH) has a fantastic reputation as a Centre of Excellence, and as a specialised Children's Trust.  Hearing Services at Sheffield Children's NHS Foundation Trust provide a full range of diagnostic assessments for children aged 0 – 16 years of age.  Whilst the department does offer a comprehensive rehabilitation service, including fitting bone anchored hearing aids, it does not perform newborn screening or provide cochlear implants, instead referring children to the specialist centres should they meet the relevant criteria.
Hearing Services has been in its current location for nearly 30 years, and several of the staff have been based there for over 10 years.  Consequently there is a wealth of knowledge about what is required to provide an excellent service.  Its large multidisciplinary team of 22 staff operate from a purpose built department on the main hospital site.  In addition it runs outreach clinics across the city and visits local deaf units to support hearing aid wearers.  In 2015 the department had over 11,000 attendances for everything ranging from a one off hearing test to a specialised balance test.  The Hearing Services team assesses and manages each referral for children requiring either a hearing aid or assessment, as well as providing support for children attending ENT and Medical Audiology clinics.
Following the abolition of the previous mandatory inspection regime in 2012, the Trust was keen to demonstrate that it provides the highest standards of care available, so it signed up to the voluntary Improving Quality in Physiological Services (IQIPS) programme.  Teresa Loxley is the Paediatric Audiology Service Manager at SCH and was responsible for leading the department through the IQIPS process.  She said "Although it is not mandatory to be an accredited service, we have always strived to provide a first class service to all the patients and their families, and it is fantastic that this accreditation is proving the excellence we're firmly committed to.  Having a recognised accreditation is beneficial for new parents accessing our services, and for commissioners who may be looking at services in terms of different ways of working."
The National Deaf Children's Society (NDCS) is campaigning to make it mandatory for all children's audiology services to be IQIPS accredited.  Teresa continued.  "We have been involved with the voluntary paediatric networks for a few years.  Although this is helpful to support and improve services and gain parity for families across the UK, it is not a robust process.  In addition to there being no assessment process, the service objectives are quite vague in comparison with those laid out in IQIPS.  Today, paediatric audiology services are no longer independently assessed for quality and safety unless they are IQIPS accredited."
Confidence in care
SCH was granted UKAS accreditation against the IQIPS standard in 25th May 2016.  In doing so it becoming one of only 19 out of 134 paediatric audiology services to achieve this standard and the only department in Yorkshire to be accredited for the full range of audiology services.
Outlining the positive impact accreditation has on confidence placed in the Trust's services Teresa said.  "We receive referrals for children requiring complex treatment from the surrounding district general hospitals and further afield. We also support other services with change management requirements. Having accreditation may mean that families who are wanting a second opinion will ask for an accredited service.  Commissioners may also decide that certain referrals can only be sent to an accredited service, such as referrals from the newborn hearing screening programme."
Alison Lawson, Regional Director for the National Deaf Children's Society in Yorkshire and the Humber, said: "Children learn and socialise through hearing, so good audiology services can be vital to a deaf child's success in life.  This accreditation will come as a great comfort to parents of deaf children in Sheffield who, until now, have had no way of knowing if the audiology services their child uses are fit for purpose.  I hope other audiology services across Yorkshire and the Humber will follow Sheffield's lead and demonstrate their quality by becoming IQIPS accredited."
Efficient and fast operations
In addition to demonstrating that it is providing deaf children with the very best care, going through the assessment process itself has been a huge benefit to the department, as Teresa explains.  "Having worked in the department for over 30 years I feel the process leading up to our accreditation has resulted in us providing a better organised, tidier and streamlined service.  Prior to the IQIPS assessment, information was not always stored in the correct or obvious location, making it difficult to manage review dates and so forth.  This is something that we had to address as part of the evidence gathering process for IQIPS accreditation and now it is much easier and quicker to find and review the relevant information.  As a result, we are better able to plan than simply react to deadlines around reviewing documents and we manage change and information requests far more easily than ever before."
As well as streamlining internal processes, staff members have benefitted from the accreditation assessment.  Teresa said: "The whole team was involved in the accreditation process.  This provided a great opportunity for individual staff members to learn about different processes such as finance and commissioning of services.  This enabled them to take a step back from their day to day activities and see the bigger picture of how healthcare services are delivered, and the importance of their individual role within that delivery process."  Consequently, the department itself has also benefitted from this increased staff understanding and networking.  Teresa continued:  "At a commissioning and inter-departmental level, requests for additional resources are more likely to be successful when you can link them to an accreditation process."
Bringing the focus right back to heart of the IQIPS programme Teresa concluded.  "The Trust's audiology team achieving UKAS accreditation to the IQIPS standard shows that we are meeting standards of best practice in the industry and most importantly, providing deaf children with the very best care available."
A parent's view
Claire Wheeler, whose son is deaf and has used the audiology services for 10 years, said: "The staff always go over and above to provide a really outstanding service, so I'm not surprised they have received this award.
"When my son was first diagnosed, it was hard to take in, but the audiology team was so supportive and reassuring.  It was a tough time and they gave us so much advice, guiding us through all the different support available.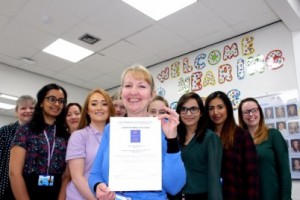 The proud Hearing Services team,  and Teresa Loxley, Hearing Services Manager with the IQIPS certificate.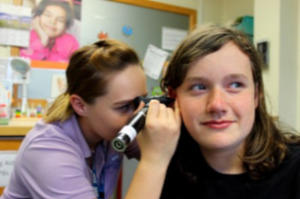 Patient with a member of the Hearing Services team.