» Leading global manufacturer of commercial fire detection and alarm systems embraces quality standards to drive business forward
06 March, 2015

Hochiki Corporation has a distinguished history of specialist technological expertise since it was founded in Tokyo in 1918. The organisation has over 95 years of experience and expertise in the design, manufacture, installation and maintenance of fire alarm systems. Indeed it has built up a reputation as one of the world's largest manufacturers and suppliers of industrial fire detection products, producing in excess of 3 million units per year.  An international market leader in the manufacture of fire protection products, Hochiki Corporation also produces fire, security and cable television systems.
The decision to have a direct presence in Europe in 1992, saw Hochiki investing in a purpose built production facility and technical support centre in Kent.  Since then the customer base has continued to growth with over 350 direct customers in the UK market alone.  Across Europe, Hochiki sells its fire detection products via an established network of European agencies.  Hochiki has established strong links with all of the major European standards organisations such as LPCB (BRE), VdS and Germanische Lloyd to ensure its range of detection products complies fully with the latest regulations.
The scale of this multi-site organisation necessitates a robust management and quality control structure with streamlined systems and processes in place. ISO 9001 quality management system is integral to its success and performance, and is used across the business. The robustness of this globally accepted standard, ensures that each site, whether it be Asia Pacific or European is meeting the same quality of output and service delivery. This in turn impacts in a positive way on the company's ROI and attractiveness to new tenders for business. This certification is especially pertinent in today's competitive, global economy.  By employing the latest manufacturing techniques and rigorous quality control procedures, Hochiki can give customers the extra confidence that every product installed will continue to enhance its brand name for long term, reliable fire detection.
State-of-the-art visual alarm device meets new EU Standard
 This global business is among the market leaders in product innovation and design, meeting the latest in health and safety requirements and legislation, and the demands of its customer base.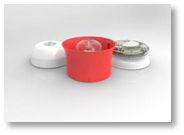 Notably in August 2014, it launched its new EN 54-23 compliant visual alarm devices (VADs) introduced to meet the compliance set out by the European Union who first introduced this standard in June 2010.
The aim of the standard is to set tougher, uniform and consistent guidelines on the installation and performance requirements of VADs in areas of high ambient noise, such as factories, and to protect the deaf or hard of hearing. This standard became mandatory on  31st December 2013.
Lighting up the 'green cause' leads to improved sustainability and reduced costs
Hochiki is keen to embrace environmental management and minimise its global carbon footprint. Operating to ISO 14001, the International Environmental Management Standard, Hochiki continues to lead the way in the design, manufacture and installation of emergency lighting. The 'FIREscape' system complies with all British and European emergency lighting standards, in particular BS 5266.
The 'FIREscape' solution is produced from fully recyclable materials and incorporates LED technology that reduces CO2 e emissions, with the result that it reduces its impact on the environment to an absolute minimum. It uses less than 5% energy consumption compared to conventional fluorescent lighting, and even at its peak lumen output, the LED draws only 80% of the recommended energy level, resulting in minimal energy consumption and maximum LED lifespan.
By putting environmental and quality management systems at the heart of its operations, Hochiki continues to achieve sustainable success.  In addition, compliance to these international standards helps in the reduction of environmental impact and is attractive to existing customers and new customers alike, so is central in driving business growth.
Quality management systems and environmental efficiencies lead to cost savings and added value to the end user
Adherence to ISO 9001 and ISO 14001 have had a positive impact on the global business. As a result of the rigorous auditing of processes and procedures, the organisation is continually reviewing it production and manufacturing processes to meet UK and International regulations. Best practice is encouraged and adhered to, with the investment in R&D driving innovation across product lines.  These efficiencies can then be passed on to the customer and are attractive for prospective new customers in tenders to win new business.
Suppliers and customers benefit as the global certification gives them confidence in the consistent supply of the highest quality product, customer service and delivery, irrespective of region.
Noticeable savings have been made as a result of having certification in place, namely saving time and money.  Indeed it was estimated that over 80 days were saved within the business in 2012, impacting on profitability and business efficiency. Combined with its advances in environmental policies and improved product design and delivery, Hochiki continues to strive to adopt manufacturing processes that will reduce its carbon footprint across the planet.