» Leading the way in offshore safety and survival training
06 March, 2015
Falck Safety Services is the world's largest global provider of safety training for the offshore industry. It is a division of Falck who have carved a reputation as the world leader in health, safety and survival training for offshore services in the oil and gas, shipping, renewable energy, defence, aviation and general industries worldwide.
Falck provide expertise in preventing, managing and learning from critical situations. This is achieved through a mix of training, counselling and by consulting with client organisations to ensure they receive the appropriate training solution required for their industry sector.
With a global team of over 1,400, Falck can offer clients a wealth of expertise from a team of very specialised and skilled professionals whose focus is on establishing levels of competencies within organisations that will help prevent and manage incidents, as well as equipping them with the skills to deal with an emergency situation. In 2012, 240,000 delegates from around the globe received safety training from Falck Safety Services.
Falck has invested heavily in providing bespoke training centres throughout the UK and globally. The Falck Group training provision spans five continents, with an existing base of twenty eight purpose built training centres servicing the needs of the regions. Falck prides itself on being the first company to offer portable training solutions for clients. Mobile units can be delivered on-site, within the UK and abroad. This has resulted in the provision of cost effective, flexible training solutions.
State of the art training facilities – tailored to meet client needs
In October 2013 Falck Safety Services invested more than £100,000 in cutting edge crisis management facilities near its training centre at Aberdeen airport.
The latest six-figure investment provides state-of-the-art training rooms for Major Emergency Management Initial Response (MEM IR), OIM Controlling Emergencies (OIM CE) and CRO Emergency Response.
Colin Leyden, Managing Director of Falck Safety Services UK, said: "We are pleased to be able to collaborate with a vital partner like Altor as we continue to expand, and improve, our training portfolio in the offshore energy sector."
A 2012 investment by the company was the provision of a £400,000 state-of-the-art helicopter landing platform at The Fire Training Group's (TFTG) training centre at Aberdeen Airport. This training facility means the company can offer real-life training scenarios to offshore personnel on the Offshore Emergency Heli Team and advanced Helicopter Landing Officer training courses.
Operating within such high profile and potentially hazardous environments, Falck Safety Services has invested heavily in ensuring every aspect of its business meets the stringent quality standards expected to deliver robust, life-saving safety training across diverse industry sectors. Indeed as an organisation it meets the requirements of a host of industry specific standards and certification relating to the training offered within the maritime, renewable energy, aviation and oil and gas arenas.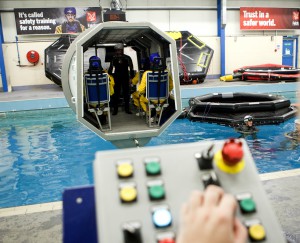 Underpinned by accreditation and internationally recognised quality standards
As Falck has continued to grow and diversify, the business has needed to ensure that its management processes and systems are scalable, facilitating the ability to meet this growth and diversification.
ISO 9001:2008 quality management system has provided the bedrock for ensuring  consistency of business processes, management reporting, standards and procedures throughout the organisation; providing an audit trail that is precise and consistent. This management standard has also facilitated growth in the business, with its inherent structure and framework of continuous improvement.
ISO:14001 demonstrates Falck's commitment to reducing its 'impact reduction' and introducing sustainable and environmentally friendly practices across its local communities. For example fire extinguishers used for training contain either training foam or training powder which is non-hazardous to the environment. In addition, with a customer base operating in the offshore and renewable energy sectors, compliance with this standard is seen as being a prerequisite to continuing to attract new tenders for business and encourage repeat business. Falck with its multiple sites around the globe can also leverage its conformity to this internationally recognised standard, so obviating the need to secure further certification.
Operating within the safety training, operational and process safety needs environment, health and safety remains of paramount importance to the organisation. Accredited to OHSAS:18001, Falck works to strictly adhered processes to maximise protection of its own employees, clients and any third party who may come into contact with Falck's services.
As an organisation, Falck is committed to continuously focusing on product development to meet the ever increasing international safety demands which their clients must meet, often whilst working in difficult and challenging environments.
Accreditation and safety go hand in hand
With safety and minimising risk at the heart of the organisation, Falck constantly strives to meet the highest quality standards. Accreditation lies at the heart of the business, as Falck continues to comply with internationally recognised standards that facilitate its on-going trade, innovation and ability to provide confidence to employees and clients alike. In addition, evidence that the business meets the stringent requirements demanded of the standards, across a variety of market sectors, is attractive in securing opportunities to tender for new business and to win new contracts, both in the UK and in the International arena, making it a truly global organisation.