» Maintaining quality standards in audiology services
26 May, 2016
In 2013 the audiology department at Aintree University Hospital NHS Foundation Trust became the first NHS organisation to achieve UKAS accreditation under the Royal College of Physicians' (RCP) Improving Quality in Physiological Services (IQIPS) programme.  Accreditation is a continuous process, based on a four-year cycle of full assessment and annual surveillance visits.  Preparing to enter the final year of this cycle, the audiology department is able to reflect on the changes undergone over the past three years. 
In addition to helping maintain standards in the long term, the experience of going through the accreditation process on a regular basis has brought other benefits to the audiology department.  Tony Kay, Head of Audiology Services said: "The continual process of accreditation led us to review the whole service we provide.  We've been able to apply the lessons we learned from each assessment to other aspects of our services, improving them in previously unconsidered ways.  In addition, it has provided credible evidence of a quality service, giving assurance to both patients and commissioners.  This has been pivotal in helping to market our services in an increasingly competitive and regulated field."
In turn, this has helped to embed a culture of quality within the department, which has had a positive effect on staff performance, morale and patient satisfaction.  Tony Kay said.  "The accreditation process gives a shared meaning and goal to the team above and beyond our usual commitments; this serves to further motivate staff and improve morale.  The net result is a better experience for our patients, awarding the team consistently high patient experience scores, with the last survey scoring 9.85/10."  Tony Kay continued:  "Accreditation is a prestigious mark of professional competence for our services.  Being able to say that we have not only achieved but are maintaining accredited status is something that we are all very proud of."
Becoming accredited to the IQIPS standard has been a worthwhile experience for Aintree University Hospital's audiology department, helping it to both fulfil its mission statement and provide reassurance to stakeholders and patients.  Tony Kay concludes.  "With Aintree University Hospital's Audiology Services having UKAS IQIPS accreditation, patients and commissioners can be assured of a safe and effective quality service.  Whilst hard work, the many benefits of going through the accreditation process have certainly been worth it.  Indeed achieving IQIPS accreditation has had a positive impact on patients, commissioners, the Audiology team and the NHS Trust as a whole."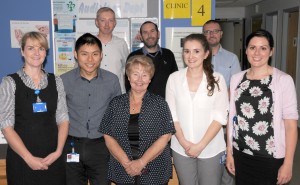 The Audiology Team, Aintree University Hospital NHS Foundation Trust