» Meeting the challenges of creating a more sustainable environment within the construction arena
01 September, 2016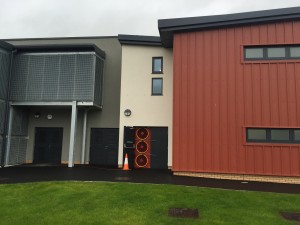 Formed in June 2010, atbec ltd is an air tightness and building energy consultancy, specialising in air tightness testing and pre completion acoustic testing (both UKAS Accredited).  Other Services include room integrity testing and energy assessment.  Over the last six years the company has expanded its range of services to include acoustic testing and thermographic testing.  With bases in Ballymena and Fermanagh, atbec offers its services throughout the UK, Ireland and internationally.  It serves a range of clients including large scale contractors and self builders, covering the entire process from design stage through to completion testing on new builds.
Legislation introduced by both the UK and Irish governments has brought the requirements of the Energy Performance of Buildings Directive 2010 (EPBD) to the attention of all those involved in the design, construction or sales of both new and existing buildings.  The Directive has various strands implemented over a 3 year period with the objective to improve energy efficiency and reduce carbon emissions within both the existing stock and new builds.  Designed to meet the combined challenges of climate change and a more sustainable environment, this forms an integral part of the government's strategy to achieve the targets set within the Kyoto protocol.
Following the introduction of new requirements in the 2012 Building Regulations to Part F and Part G acoustic, atbec began the process of having its services assessed by the United Kingdom Accreditation Service (UKAS).   In March 2013, atbec was awarded UKAS accreditation for air tightness testing of both commercial and domestic buildings.  A few months later, the company gained accreditation for acoustic pre completion testing.
Keeping an ear to the ground
In October 2012, changes to the Building Regulations 2012 Part G Resistance to the Passage of Sound introduced the need for pre completion sound testing (both airborne and impact) between dwellings and apartments.  Becoming the first and so far only Northern Irish registered company to hold UKAS accreditation for both air tightness and acoustic disciplines has had a significant impact on the company's business.  James Taggart is one of atbec's founding directors and said:  "We originally had accreditation for air tightness only.  However due to changes in building regulations in Northern Ireland in 2012 we added pre completion acoustic testing to our services.  Being the only Northern Ireland registered company to provide both UKAS accredited air tightness and pre completion acoustic testing has given us a strong position in the market.  It has enabled us to provide a one stop shop for accredited and compliant testing.  As a direct result we have seen our client base increase, as we can help to cut down on the significant work load of contractors by liaising with site and building control to ensure all required testing and certificates are presented on time for completion."
Cross border travel
As the UK's national accreditation body, UKAS is a signatory to the Mutual Recognition Arrangement (MRA) of the International Laboratory Accreditation Cooperation (ILAC).  The ILAC MRA acts as a global network of equivalence recognition for accredited testing and certification bodies.  This helps to remove barriers to international trade for those organisations that have been granted accredited testing, as their accreditation will be recognised in over ninety economies across the world.  Just as both air and sound waves do not recognise international borders, to some extent neither does atbec's accreditation to ISO 17025, widening the company's potential marketplace.
Taggart said: "We carry out air tightness and acoustic testing in the Republic of Ireland which recognises ISO17025 for air tightness and acoustic testing.  Again as with Northern Ireland, we have found that this accreditation has seen our client base increase as it is a mandatory requirement to have third party accreditation to have test reports accepted by the local authorities."  Operating out of its bases in both Ballymena and Fermanagh, atbec currently has live jobs ranging from houses to large Educational Institutes throughout Ireland, Scotland and Northern Ireland and has worked as far afield as Gibraltar.
Improvement starts at home
Whilst some may consider outside assessment to be a burden on the business, atbec has found it to have quite the opposite effect.  Lessons learned in preparing for UKAS assessments and the assessment visits themselves have helped to instil a culture of quality within the business.  They have also helped to streamline both internal operations and staff training.  Taggart said: "We find that having UKAS accreditation and the systems and processes that are required under ISO17025 have vastly helped the efficiency and day to day operations within our growing company.  As we are a growing company we have found that the simplicity and operating systems are helping new starts get to grips quickly and are finding the induction process easier."