» Promoting accreditation through Trade Associations
21 June, 2016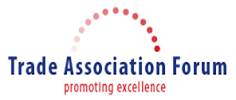 The Trade Association Forum (TAF), with over 300 trade associations members representing nearly 500,000 businesses, has published guidance on its website to ensure that small businesses can access the information they require to meet their testing, inspection and certification requirements. 
TAF, which encourages the development and sharing of best practice among UK trade associations, recognises its role in providing information that can support an informed choice of supplier for evaluation activities. 
This page provides Trade Associations and its members with information on how to:
• Find an accredited provider
• How to check if a certificate from overseas is covered by accreditation
• How to gain accreditation
• Find out more information on how to develop an accreditation scheme for your Trade Association
• How to work for UKAS as technical assessor or as a permanent member of staff
Visit the TAF website to view more.