» TA Best Practice Exchange, 3rd November 2016, London
21 October, 2016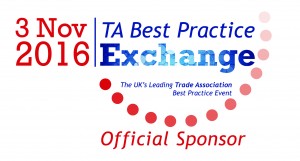 UKAS will be attending the forthcoming 14th anniversary TA Best Practice Exchange being held on 3rd November at One Drummond Gate, Pimlico, London. This event is a great networking and sharing of best practice opportunity for Trade Association Forum members, which is supported with keynote addresses and a suite of masterclasses and seminars. The opening keynote presentation is being given by The Honourable Nick Hurd, MP, Minister of State for Climate Change and Industry, at the Department for Business, Energy and Industrial Strategy. Whilst the afternoon keynote presentation is being given by Baroness Burt, Liberal Democrat Lords' Principal Spokesperson for Business, Energy and Industrial Strategy.
TAF members will have the opportunity to meet with UKAS to find out more about accreditation and the potential benefits to their members. These benefits may include leveraging opportunities for new business tenders, especially within the public sector environment, and maximising opportunities for new contracts within international trade. In addition they can find out how they can check whether an overseas certificate is covered by accreditation and if the suppliers they work with have accreditation in place. 
It is anticipated that over 150 Trade Associations will be in attendance so we look forward to meeting with you on 3rd November in London.