» Technical Bulletin – Change to Improvement Action Summary Form (IASF) Submission
12 February, 2018
Background - ISO/IEC 17011 Revision
As an Accreditation Body, UKAS operates in accordance with the requirements specified in ISO/IEC 17011 Conformity assessment - Requirements for accreditation bodies accrediting conformity assessment bodies.
This standard has recently undergone revision and ISO/IEC 17011:2017 was published on 30 November 2017 with a 3-year transition period from ISO/IEC 17011:2004. As part of the transition process, UKAS has completed a gap analysis and identified a small number of changes to be made to policy and procedure to meet revised requirements.
Requirements Relating to Resolution of Nonconformities
ISO/IEC 17011:2017 clause 7.6.8 states;
"When nonconformities are identified, the accreditation body shall define time limits for correction and/or corrective actions to be implemented. The accreditation body shall require the conformity assessment body to provide an analysis of the extent and cause (e.g. root cause analysis) of the nonconformities and to describe within a defined time the specific actions taken or planned to be taken to resolve the nonconformities."
Although the 2004 version of the standard required Accreditation Bodies to review actions to determine whether they appeared 'sufficient and effective' there was no explicit requirement for provision of analysis of extent and cause of nonconformities as part of the review process.
Change to Procedure - What and When
To ensure that the requirement of ISO/IEC 17011:2017 clause 7.6.8 is met in a consistent manner, an extra column will be added to our Improvement Action Summary Form (IASF) for conformity assessment bodies to record Cause & Extent of Nonconformity for all mandatory (M) findings. In practice, it has always been necessary for bodies to consider these aspects when determining appropriate corrective action. Therefore, the only actual change is that this information shall be provided to UKAS on the IASF together with the details of action taken and any supporting evidence. Recommendations (R) do not need to be included on IASFs. The revised form will be in use from the start of March 2018.
It is not anticipated that this will routinely result in the need for any additional effort in reviewing IASF submissions, however if information supplied is incomplete or unclear then further information may need to be requested as a result.
Any queries regarding the changes should be directed to your Assessment / Case Manager.
Revised Improvement Action Summary Form (IASF)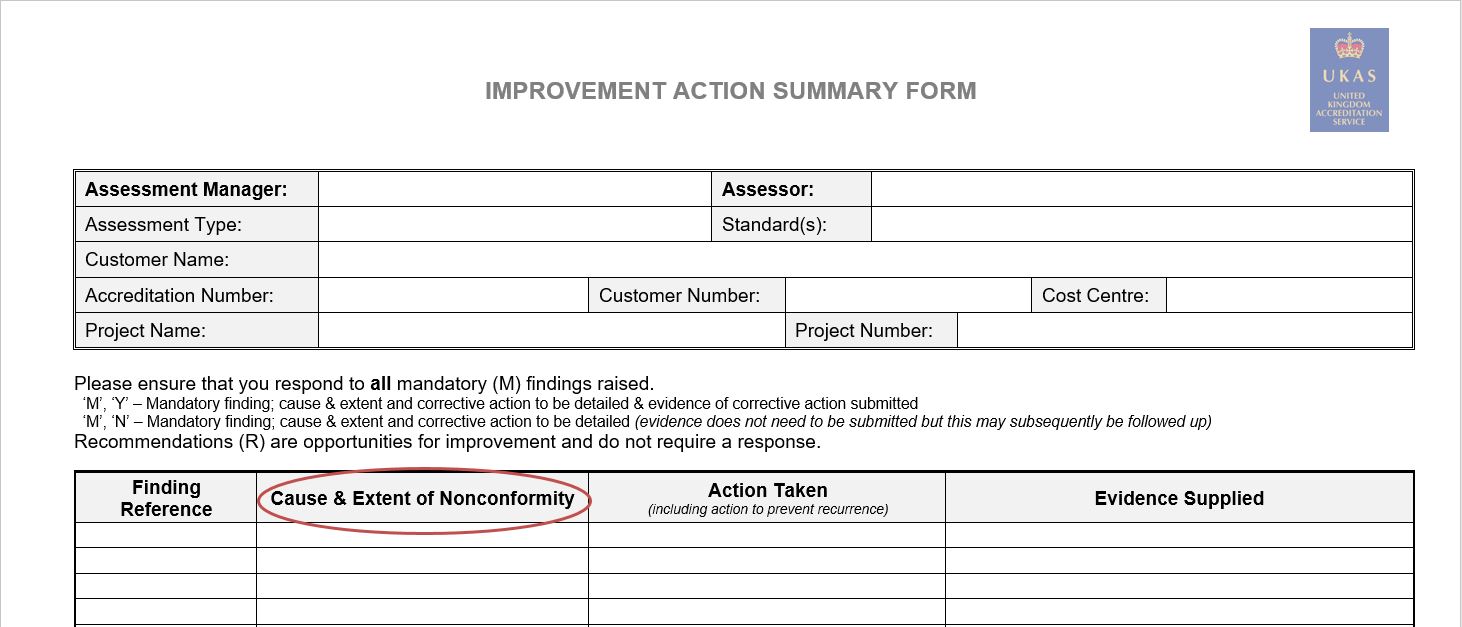 Download printable version of this Technical Bulletin