» The bright sparks of electrical inspection
09 March, 2015
Gas and electricity are vital commodities for any business, whether that is an industrial production line or consulting services company.  In addition to being essential, both electricity and gas have the potential to cause catastrophic damage to property and life.  It is therefore vital that installations are maintained to the highest safety standards and regularly inspected and tested to determine their integrity.
PHS Compliance was founded from CLM Compliance which started out as a lighting maintenance business in 1989, serving blue chip and public sector organisations.  Over the last two decades, the business has grown and expanded its services, becoming one of the leading electrical and gas testing and inspection companies.
 PHS Compliance offers services for all aspects of essential planned and reactive maintenance, test and inspection, design and installation.  Its core electrical testing and inspection services cover fixed wires, fire alarm and detection, emergency lighting, electrical installations and portable appliance testing.  Gas related inspection and testing services include landlord's gas safety inspections, system design, installation and repair, as well as commercial and domestic gas servicing and inspections.  In order to help demonstrate its competence to carry out these inspections PHS Compliance has chosen to have its inspection and testing of both low voltage electrical installations and appliances accredited to the Inspection Standard ISO/ IEC 17020:1998.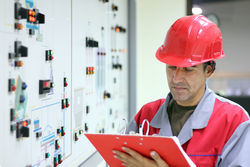 Accreditation
The main purpose of accreditation is to determine, in the public interest, the technical competence and integrity of organisations offering certification, inspection, testing and calibration services.  ISO's formal definition of accreditation is "third party attestation related to a conformity assessment body conveying formal demonstration of its competence to carry out specific conformity assessment tasks." (ISO/ IEC 17000:2004).
 UKAS is the sole body recognised by Government for the assessment and verification – against internationally-recognised standards – of certification, inspection, testing and calibration services.  In other words, it is UKAS' role to check the checkers.
Business Benefits
With separate offices in Warrington, Aberdeen, Glasgow and Northern Ireland offering services throughout the UK and ROI, maintaining a consistent standard both internally and externally is a constant priority for PHS Compliance.  Achieving UKAS accreditation has helped the company to create an integrated approach to business.  Paul Caddick, Managing Director of PHS Compliance said.  "By going through the process of both internal and external audits on a regular basis we are able to highlight any deficiencies or shortfalls in the level of service we are able to provide and address them as a priority. The accreditation process is a long and detailed undertaking that looks into every aspect of our business and in doing so it provides our management team with an impartial review of the way our business is operating. The feedback obtained from these audits is vital for us to continue to improve and maintain such high standards of quality and service."
 There have been other benefits to the business itself as Caddick explained:  "By achieving the accreditation it means that PHS Compliance has in place a suitable quality management system and in doing so it shows our commitment not only to our customers but to our staff.  Benefits to the company are improvement to sales, increase in productivity and ultimately an increase in our bottom line profits."
 Accreditation by UKAS can also offer the business a competitive edge over its rivals.  PHS Compliance is the only company to hold ISO/IEC 17020 accreditation for the inspection of electrical installations and electrical appliances.  Paul Caddick said.  'Having UKAS accreditation is a unique selling point for PHS Compliance, because none of our competitors hold such accreditation.  This further enhances our status as one of the market leaders in electrical compliance services."
Customer Confidence
Increased customer confidence is another key benefit that PHS Compliance has gained from achieving accredited certification.  Caddick said.  "Our customers know that when they choose PHS as their preferred supplier for electrical compliance services they are assured of high standards of service at all times.  We have a management system in place which will provide transparency from point of sale to delivery of completed product and also that there is a governing body in place who is regularly inspecting our business and our procedures to ensure we are adapting to the needs of the industry.  Accreditation allows our customers the ability to distinguish between a proven, competent evaluator that ensures that the selection of a laboratory, certification or inspection body is an informed choice and not a gamble.  UKAS accreditation means the evaluator can show to its customer that it has been successful at meeting the requirements of international accreditation standards."
 PHS Compliance offers its services to both the public and the private sector and UKAS accreditation has proved to be a useful door opener.  Many organisations, particularly those in the public sector, stipulate that tendering suppliers must hold UKAS accreditation.  Having its services accredited by UKAS has provided PHS Compliance with a wider marketplace, both in the UK and abroad.  A series of Multi Lateral Agreements (MLAs) with over 60 signatory countries around the world means that the accreditation symbol of one country is equally accepted in the other signatory countries, further increasing the potential market place.
Customer Benefits
Using accredited services can also help PHS Compliance customers save both time and money.  Accurate measurements and tests help control costs by limiting product failure and downtime.  Costs are further controlled because the guesswork is taken out of choosing an evaluation body.  By using an accredited supplier, a company can have confidence they will get the service that best fulfils their requirements.  Further time savings can be made because the need to carry out unnecessary routine audits, or re-test products at each stage of the manufacturing process, is minimised.  This means reduced paperwork and increased efficiency.
 Finally, accredited services play a vital part in risk management.  In the event of legal action, the use of accredited bodies to carry out independent evaluations helps demonstrate due diligence.  Caddick concluded.  "Accreditation by UKAS means that we have been assessed against internationally recognised standards to demonstrate our competence, impartiality and performance capability.  The UKAS accreditation that PHS Compliance holds as an inspection body is very important to us as it is recognition of the quality and the high standard of work that we carry out for all our customers."