» UKAS and Public Health England collaborate over quality assurance in newborn and antenatal screening.
03 August, 2015
The United Kingdom Accreditation Service (UKAS) has signed a memorandum of understanding (MoU) with Public Health England (PHE) to assess the competence of medical laboratories that provide newborn and/or antenatal screening services.  Under the MoU, UKAS will include the additional criteria contained in the relevant PHE national screening standards when assessing antenatal and newborn screening laboratories for accreditation to ISO 15189.
The MoU allows for the sharing of information between UKAS and PHE's Screening QA Service, with the aim of achieving a reliable, valid and efficient method of assessing the quality of the laboratory aspects of the screening pathway.   The streamlined approach to the assurance offered by UKAS accreditation will increase internal efficiencies and reduce duplication of assessment.
Paul Stennett, CEO of UKAS said: "UKAS accreditation already underpins confidence in the quality of a number of healthcare services.  The MoU between UKAS and PHE extends this confidence into the important area of newborn and antenatal screening, removing any gaps in the quality assurance process.  It ensures that the users of the laboratory services and screening providers will adopt a joined up and consistent approach to the ongoing improvement of antenatal and newborn screening services in England."
Professor Kevin Fenton, Director of Health and Wellbeing at Public Health England, said: "I was delighted to sign this memorandum of understanding which will only help to improve confidence in these vitally important screening programmes."
To help laboratories prepare for the revised UKAS assessment, the relevant PHE screening standards have been mapped against the criteria that UKAS use to assess and accredit medical laboratories,  ISO 15189.  This mapping information is included in a form called a 'submission tool' which is available here http://www.screening.nhs.uk/quality-assurance ('ANNB Screening Laboratory Standards Mapped To ISO 15189').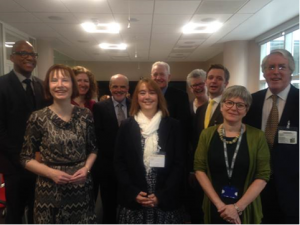 Kevin Fenton, Director of Health and Wellbeing at Public Health England, (far left) with UKAS' CEO, Paul Stennett (centre back row)
and members of PHE's screening quality assurance team, antenatal and newborn screening team at the signing of the MoU.