» World's first accreditations for certification of asset management
11 May, 2015
The United Kingdom Accreditation Service (UKAS) has granted the world's first accreditations for the certification of asset management systems to ISO 55001.  The first five accredited certification bodies are:
AFNOR UK Ltd.
BSI Assurance UK Ltd.
DNV Certification Ltd.
Lloyds Register Quality Assurance Ltd.
SGS United Kingdom Ltd.
A further three certification bodies are in the process of achieving accreditation for ISO 55001 certification and will be announced as they are finalised.  All eight certification bodies took part in a pilot project, launched by UKAS in April 2014.  The pilot is based on the ISO17021 accreditation standard including Part 5: Competence requirements for auditing and certification of asset management systems.  The scheme is now open to other applicant certification bodies following the successful completion of the pilot project.
The Institute of Asset Management (IAM) is for professionals worldwide who are dedicated to furthering their knowledge and understanding of Asset Management.  Welcoming the announcement of the accreditations, David McKeown, CEO of the IAM, said:
"We are delighted that this UKAS initiative continues the UK's world leading provision of thought leadership, services and learning in asset management.  Many organisations in the UK and elsewhere will welcome the availability of accreditation for certification bodies.  The IAM Certificate qualification is objective evidence of the knowledge and understanding needed by auditors and the IAM is glad to be re-launching our exams and Endorsed Assessor services at the same time."
Janet Gascoigne, Accreditation Manager, Development at UKAS said.
"UKAS is excited to be the first accreditation body in the world to issue accreditation for asset management systems certification.  The granting of the first five accreditations for certification to this new standard is a key step towards both business and the public being able to recognise, understand and trust ISO 55001 systems certification as a robust and credible indication of the competence of organisations seeking to obtain best value for their stakeholders from all their assets,."
As the UK's National Accreditation Body, UKAS' role is to accredit certification bodies to the requirements of the standard ISO 17021, for the application of ISO 55001.  David McKeown, CEO IAM, concluded:
"In practice anybody can declare themselves to be a certification body and issue a certificate of conformity for an ISO management system standard.  It is therefore important that there are mechanisms to independently assess a certification body's competence, credibility, independence and integrity in carrying out its conformity assessment activities.  Such mechanisms provide assurance to client organisations when they are selecting organisations to assess the extent of their conformity to a management system standard."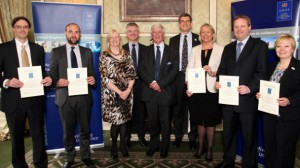 Representatives from the successful certification bodies (holding certificates),
with (in centre, from left to right), Janet Gascoigne (Accreditation Manager, UKAS),
Chris Knowles (Independent Examinations Board Chairman, IAM),
Lord Jamie Lindsay (Chairman, UKAS) and David McKeown (CEO, IAM).