» Accreditation – Delivering patient safety
Did you know that some hospital departments throughout the UK have a national 'badge of quality', known as UKAS accreditation? This means that these departments have been independently assessed to confirm that they deliver high quality patient care and testing services.
UKAS accreditation is available to departments that provide a lot of routine diagnostic testing for example, X-Rays, ultrasound tests, MRI examinations, hearing tests, vascular or gastro intestinal issues to cardiac related tests such as ECGs or chest X-Rays.
What is UKAS Accreditation?
The United Kingdom Accreditation Service (UKAS) is the sole national accreditation body for the UK. UKAS operates under a Memorandum of Understanding with the Government, through the Secretary of State for the Department for Business, Energy & Industrial Strategy (BEIS). It is BEIS policy to recommend the use of UKAS accredited conformity assessment services whenever this is an option.
UKAS' role as the national accreditation body also carries a responsibility to drive awareness of accreditation and quality standards across the health and social care arena. You can find out more about UKAS's role and the benefits of accreditation here.
What benefit will accreditation provide me as a patient?
UKAS accreditation ensures that staff who carry out your diagnostic tests are competent and the equipment being used is safe and fit for purpose. Rapid and accurate diagnosis and treatment is essential. Accreditation provides you, the patient, with confidence that the hospital service you are visiting is providing you with the best possible care and is delivering a quality led service with patient safety and delivery at its core.
Quality Healthcare for Patients - Putting Patients First
So what are these UKAS accredited quality healthcare standards? They are quality led diagnostic testing standards that have been developed by the professions to set out best practice. UKAS then manages and delivers these quality standards on their behalf.
UKAS recognises the importance of quality led healthcare to patients across the United Kingdom and is therefore actively building relationships with the NHS Trusts and private providers of diagnostic testing services to deliver a scheme to accredit Imaging Services, and the Improving Quality in Physiological Services (IQIPS) Scheme throughout the UK.
The value of accreditation is supported by NHS England (NHSE), NHS Wales, NHS Scotland and the Department of Health in Northern Ireland and is seen as an important mark of quality. UKAS is therefore working closely with them to inform them about the value that accreditation could bring to their organisations in delivering consistently high clinical care and diagnosis, with patient safety at its core.
Independent reassurance
The independent Regulator of health and social care in England, the Care Quality Commission (CQC) recognises the potential value of clinical service accreditation and peer-review schemes as information sources to support its inspections. Such schemes have the potential to provide useful intelligence and independent assurance that accredited services meet defined standards. 
NHS England (NHSE) recognises the value of accreditation and has outlined its strong position towards the accreditation of diagnostic services by publishing a position statement in October 2016. In it, NHSE states that it remains committed to, and strongly endorses participation of diagnostic services in the UKAS accreditation programmes. A copy of the position statement can be viewed on the NHS England website. 
So, as a patient visiting a hospital that has accreditation in place, you should be more confident and reassured of the clinical and patient care you will receive.
Medical Laboratory accreditation
UKAS accreditation of medical laboratories extends across the UK, so patients can have extra assurance and confidence that their blood, urine and tissue tests are being verified by an independent, impartial third party organisation to ensure consistency and assurance of test results.
Point of Care Testing in your Community  
The provision of Point of Care Testing in the community is on the increase, whether patients receive this at their local doctor's surgery where their Doctor may test a urine sample or test for glucose and cholesterol levels to Point of Care Testing in an emergency situation with on-site paramedics.
It's important for you that you can have confidence that the tests being carried out are accurate to ensure the correct diagnosis is given. Although the uptake of POCT accreditation is currently low this is a growing area.
Quality Assurance of Dentists
In line with current NHS and overall government healthcare objectives, UKAS is working with dental providers in the UK to ensure that patients receive consistently high standards and quality of care in dentistry. With this aim in mind the Excel programme, a quality assurance programme has been developed for dentists to help support clinical governance, professional regulation and excellence in patient care.
Medical Physics and Clinical Engineering
UKAS has been approached by NHS England (NHSE) and the Institute of Physics and Engineering in Medicine (IPEM), to develop a new accreditation standard which is aimed at driving up improvements in the standards of Medical Physics and Clinical Engineering (MPACE). The overall aim of this new healthcare standard is to promote better delivery of quality services and outcomes in areas that include the correct diagnosis and safe treatment for illnesses such as cancer and stroke. It also covers the innovation of medical equipment such as MRI and ultrasound scanners, X-ray machines, patient monitors and drug delivery systems.
So how do I find out which services are accredited?
To date a number of major NHS Trust Teaching Hospitals, Centres of Excellence and Independent Healthcare Providers across the UK have achieved UKAS accreditation. To find one that is local to you, please review the different quality schemes and accredited services near to you here: Imaging Services, IQIPS, Point of Care Testing, Medical Laboratory testing or Medical Physics and Clinical Engineering (MPACE) services. 
You can also download our Patient Guide, 'Providing confidence in your healthcare provision' which provides further information about these quality healthcare schemes.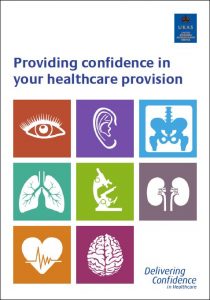 Patient Group Representation
Throughout the UK Patient Group Representatives are being established across the GP networks with the aim of them being the spokespeople for patients within their local practice. Patients are encouraged to take more responsibility for their own health and that of their family, and to feel confident in raising any concerns and issues. The patient perspective is also seen as being very important in any commissioning decisions that are undertaken on a local, regional and national level.
So you may like to ask your Practice Manager or your Doctor for more information or you can contact us to find out more, simply email us: info@ukas.com
Work for UKAS as a Lay/Patient Assessor
We are always keen to speak to people who are interested in becoming a UKAS Lay/Patient Assessor. Ideally you will be a graduate with experience of health care tests or investigations and/or be a member of a local or national Lay/Patient representative organisation. You can find out more about how to apply here.
Further information