» Accredited Calibration: Instrumental for Success
21 August, 2017
Accurate, reliable measurements are the cornerstone of industries and societies across the globe.  To ensure that measuring devices give accurate readings they should be properly calibrated as part of a robust quality control system.  The United Kingdom Accreditation Service (UKAS) recommends using organisations accredited to ISO/IEC 17025:2005 for any calibration work.  This international standard defines what is required of a laboratory to demonstrate the technical competence of its personnel.  It also requires the availability of all technical resources necessary to produce reliable data and results for a defined set of tests, measurements or calibrations.
Established in 1980, Isothermal Technology Ltd (Isotech) has grown to be one of today's world leaders in industrial, secondary and primary temperature metrology.  Its client base stretches across the globe and ranges from sole traders to some of the world's largest National Measurement Institutes (NMIs).  Early in 2017, the company won a prestigious Queen's Award for Enterprise for the development of a new type of thermometry bridge.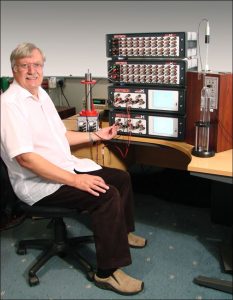 John Tavener, MD with the microK thermometry bridge 
Isotech was initially set up to manufacture thermocouple reference equipment for the power industry.  It quickly became apparent that no single company was offering both the equipment and the required calibration expertise, so the decision was made to set up an in-house calibration laboratory.  In order to demonstrate to both existing and potential customers that the calibration was being conducted to the requisite standard, Isotech decided to apply for UKAS accreditation.
In addition to being Isotech's original founder, John Tavener is the company's current MD and Head of Laboratories.  He said:  "At Isotech we remain unique in that in addition to manufacturing equipment we also operate a full scale UKAS accredited laboratory calibrating both our own equipment and a full range of temperature equipment for our clients, from industrial thermocouples to primary standards."    
 Whilst accredited calibration is key to achieving accurate measurements, it can be difficult to accurately measure the value of accredited calibration itself.  However, going through the UKAS assessment process has led to the embedding of continuous improvement into the company's culture.  In turn, having quality at the top of its agenda has helped to drive the company's growth by increasing customer confidence, as John explains:  "Many of our products are used in life critical applications.  In this situation more than any other, clients need confidence that products will perform exactly as they should.  UKAS accreditation helps generate the necessary trust and credibility in our products by providing a recognised independent and robust assessment of the testing and calibration procedures we have in place."
The laboratory's UKAS accreditation has enabled Isotech to diversify its offering into other sectors, as John explains:  "We initially established the laboratory to make sure that our own products had both the highest performance and the lowest uncertainty possible.  Achieving UKAS accreditation meant we had the necessary recognised assessment of our calibration processes and were able to independently offer our NMI-level testing services to other manufacturers."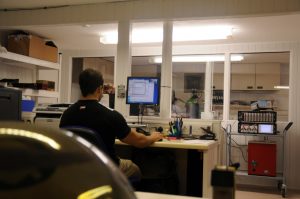 Isotech's secondary calibration laboratory
Like most industries, accreditation is an international activity.  Thanks to the Mutual Recognition Arrangement (MRA) established by the International Laboratory Accreditation Cooperation (ILAC), UKAS accreditation of testing and calibration services is recognised as meeting national standards in over 90 economies across the world.  This equivalence recognition lowers barriers to trade and ensures that companies avoid having to go through multiple re-testing and compliance checks each time they wish to export to a new country.
For UK based companies with an international customer base, the ILAC MRA saves both time and money, as well as opening the door to markets abroad, as John explains:  "Around 80% of our manufactured products are exported, meaning international traceability is very important to us.  Whilst a few international customers choose to have our products calibrated locally to them, the demonstrable credibility that UKAS accreditation brings is invaluable to us.  It gives clients the confidence that the equipment we are supplying them with will deliver the performance we claim."
Isotech's business continues to grow, with thermometry bridges sales rising by 86% during the last five years.  The majority of its clients are overseas and the reassurance that UKAS accreditation brings has proved particularly critical in two key export markets; the USA and India.  Scott Sabourin, President of Isotech North America commented: "The UKAS calibration accreditation from Isotech headquarters in the UK has been invaluable for us in providing international traceability and leading low uncertainties.  Not just here in the United States but also across the Americas."  Scott's thoughts were echoed by Rajesh Vijay, Managing Director Isothermal Technology (India) who also appreciates the value of UKAS accreditation.  Rajesh said: "Here in India clients are very demanding in terms of quality and traceability.  Isotech's UKAS accreditation satisfies this need and is both respected and valued from government departments to smaller entities."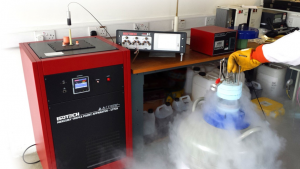 Low temperature calibration