» The UKAS Response to COVID-19
14 July, 2020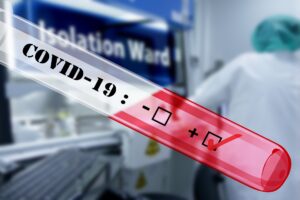 We are all aware of the restrictions that the Coronavirus pandemic continues to place on our businesses and personal lives. Like most businesses, UKAS has put a number of response measures into place in order to ensure business continuity whilst keeping our employees and customers safe.
From the outset UKAS was committed to ensuring that the trust and confidence that accreditation provides to the marketplace was not unduly diminished during these challenging times, and in March 2020 UKAS moved all of our assessments to being conducted remotely. Since then we have conducted over 4000 assessment days remotely across a wide range of standards and sectors and the level of coverage we can achieve remotely allows us to ensure the ongoing integrity, impartiality and competence of an organisation undergoing accreditation. It is reassuring to see that our customers have reported very positive experiences of remote assessment, with most commenting that they would like to keep this as an option when we return to on-site assessments.
As the timeframe of the restrictions from the pandemic continues to extend, UKAS has needed to develop an approach to conducting on-site assessments to ensure we can continue to grant, maintain and renew the accreditation our customers and stakeholders rely upon. From August 2020 UKAS has been conducting on-site assessments where it is safe to do so. Currently, all UKAS assessments are being evaluated to determine the best approach, under current conditions and the amount of on-site assessment required, if any, will be determined on a case by case basis and communicated to the customer when appropriate.
UKAS employees continue, where they can, to work from home at this time. Even though we are working remotely, we remain committed to supporting our customers and providing high levels of service. We are still operating with full teams and within normal working hours so please use our normal communication channels to contact us if there is anything UKAS can do to support your needs at this time. UKAS is continuing to accept applications for extensions to scope and new accreditations in all areas at this time.


The Ongoing Need for Confidence
Accreditation of an organisation provides confidence in the fitness for purpose of an organisation's services, as such it is essential that the confidence accreditation provides to CABs and their customers and stakeholders is not diminished at this time. All Accreditation Bodies currently find themselves in the situation of needing to provide this confidence but with their traditional business models of on-site assessment severely restricted. Therefore, to enable it to continue to provide confidence UKAS accelerated the implementation an existing project on remote assessments, implementing them in a matter of weeks. Remote Assessments have been the main accreditation assessment option from UKAS since 17th March, and will continue to our part of our approach for the foreseeable future.
To assist our customers UKAS has adopted a collaborative approach to assessments as far as possible, without affecting its independence as the National Accreditation Body for the United Kingdom. To help conformity assessment bodies prepare for remote and blended assessments, UKAS has held a series of free technical webinars and produced guidance and FAQ documents, all of which are available to view/download on the UKAS website.
How Remote Assessments are Conducted
Although the format and timeframe of remote assessments will feel different to CABs, the structure, processes and fundamental nature of accreditation assessments remains the same. Meetings will be arranged, evidence requested, documentation reviewed, activities witnessed, specific issues discussed, any non-conformities highlighted (and hopefully closed) and a report/recommendation made. As the process relies heavily on IT solutions, CABs are advised to check access to and understanding of web-conferencing systems and to ensure their internet/WiFi/4G connections are robust enough to conduct live meetings and information exchanges.
At the outset of the remote assessment process, UKAS Assessment Managers will agree a timetable with CABs and provide them with a list of documentation and records required. This is needed in advance of the due assessment date and can be provided by a wide range of common file-sharing services (such as Dropbox) as well as e-mail.
The confirmation of ongoing technical competence is the ultimate aim of accreditation, and UKAS is pragmatic about how technical activities can be witnessed during remote assessments. A live stream is the ideal option, but a narrated video recording could be an appropriate alternative. Where none of these is possible, then either a vertical audit of previous work or technical interviews of authorised staff could be undertaken. When none of these options are available then the witnessing element will need to be conducted at a time when UKAS is able to conduct an on-site assessment.
Once collated, the evidence will be reviewed remotely by UKAS and discussed with the CAB's relevant technical and quality staff during pre-arranged Q&A sessions. UKAS' preferred platform is Microsoft Teams, but other web-conferencing solutions can be used where these are accessible by UKAS. Although this approach can fragment the assessment process, the overall time and resources devoted by UKAS and CABs should remain similar. Many CABs may indeed find the staggered approach of remote assessments is less intrusive and allows them to carry on with their day-to-day work while UKAS remotely reviews documents and records.
Inevitably, introducing any programme much sooner than originally anticipated proved challenging for both CABs and UKAS, but overall the experience has been a very positive one. By working closely with accredited organisations and taking their feedback on board, UKAS has been ironing out any creases, and introduced ongoing refinements to improve the effectiveness and experience of remote assessments for all.
The Future and Returning to On-Site Assessment
Whilst remote assessment remains UKAS's primary approach at this time, the use of on-site assessments is possible but only in situations where a remote assessment is not possible or significantly inefficient. When restrictions are further lifted then more on-site assessment will be possible. However, we are unlikely to be conducting full assessments on-site for some time and it is likely that blended assessments (a mix of on-site and remote assessment) will become the 'new normal' for UKAS assessments in the future.
What has become clear over recent months is that remote assessment is, in many cases, an effective tool for UKAS to confirm the ongoing competence and compliance of our customers. That said, there is a place for on-site assessment which in certain circumstances is the most effective and efficient approach. Therefore, UKAS is developing a risk evaluation approach to allow us to consider the risk presented by the CAB and design our assessment approach accordingly, varying the use of remote assessment and frequency of on-site assessment dependant on risk. This approach is planned to be trialled within a couple of areas of our business over 2021 prior to wider rollout in the future.
UKAS International Travel Update 
In light of ongoing global Covid-19 infections, UKAS has reviewed its position on international travel and has taken the decision to extend the postponement of non-essential on-site assessment of customers outside the United Kingdom until April 1st 2021 at the earliest.
Assessments scheduled to be undertaken before April 1st 2021 will proceed, but will generally be conducted remotely using appropriate techniques, and at a time which is in line with the normal profiled date for the visit. The Assessment Manager will determine the need for on-site assessment visits on a case-by-case basis, considering all the associated risks and benefits and in close consultation with the customer. Travel and on-site Assessment will be limited to essential visits where risks can be satisfactorily limited. In these cases, the assessment will be conducted through a blended approach using remote and on-site assessment techniques.
Where an on-site assessment is essential, but we are unable to arrange a visit to site, we will conduct a physical visit as soon as is practicable. Whilst we will take every possible step to ensure that such delay does not adversely affect accreditation, there may be exceptional cases where it is not possible for UKAS to confirm that requirements are being met and these situations will be dealt with as they arise.
~ENDS~