» Accredited fire resistance testing: fanning the flames of customer confidence.
16 February, 2016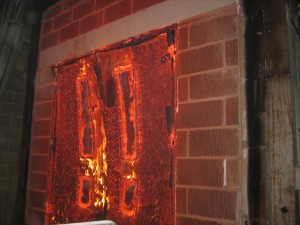 Whilst building regulations may vary nationally, they are united globally when it comes to preventing the spread of fire.  Building legislation across the world requires that separating elements such as doors, walls and glazed screens (as well as items going through these walls including pipes and cables) have a known resistance to fire exposure.
The laboratories of Cambridge Fire Research (CFR) specialise in the fire resistance testing of products used in the construction industry.  Established as an independent laboratory in 2005, CFR has fire resistance testing roots going back over 30yrs.  From its base in Pampisford, a few miles from the Imperial War Museum in Duxford, CFR's team of six technicians conduct around 125 fire resistance tests per year.  By using CFR's testing services, manufacturers are able to state the level of fire resistance that a product has achieved against a specific standard, which can be used to satisfy the various national requirements around the globe.
Delivering Customer Confidence
Companies big and small buy independent evaluations either as a consequence of legal requirements (such as health and safety regulations) or through choice (to reduce the risk of product failure for example).  The quality of CFR's British, European, American and International fire resistance testing services is underpinned by UKAS accreditation to the internationally recognised testing laboratory standard ISO/IEC 17025.  It is also a Notified Body Testing Laboratory (NBTL) under The Construction Products Regulation.
The main purpose of accreditation is to determine, in the public interest, the technical competence and integrity of organisations offering certification, inspection, testing and calibration services.  Customers of UKAS accredited organisations therefore have the confidence that the services they procure will 'do exactly what they say on the tin'.
Emma Wilson is Head of Testing at CFR, and ideally placed to outline the benefits that UKAS accreditation has for CFR's customers.  "Our customers choose CFR as this enables them to be sure that the fire resistance tests will be conducted to the required standard.  Accreditation is an essential requirement of CFR's business as it demonstrates integrity and impartiality to our customers.  For safety critical products that require CE marking within the remit of the Construction Products Regulation, the fire resistance testing (and other tasks) needs to be carried out under the responsibility of a Notified Body for Certification (NBC).  The NBC may choose to carry out the fire resistance testing themselves or contract a NBTL, with the appropriate horizontal notification, such as CFR to do it for them. "
Under EU regulation, each member state has to appoint a single National Accreditation Body (NAB), and in the UK this is UKAS.  Owing to series of multinational agreements, UKAS accreditation is recognised as meeting national standards in well over 100 countries.  This 'tested once, accepted everywhere' approach has been a vital element in attracting and retaining clients as Emma Wilson explains:  "Our clients are mainly manufacturers or importers of construction products who sell their products across the world.  The international recognition afforded by accreditation means that they avoid having to test their products for each different country they sell to, saving them both time and money.  Consequently, holding UKAS accreditation allows us access to clients who would otherwise use a different accredited laboratory."
Internal efficiencies
In addition to the 'external' benefits of becoming accredited, CFR has seen improvements internally as a result of becoming accredited, as Emma Wilson concludes.  "Going through the accreditation process for the first time was initially quite daunting.  However, by methodically examining our internal systems we were able to make sure that our operating procedures and testing methodologies were meeting the required standard.  As a consequence of this detailed examination we were able to both increase the efficiency of our work processes and identify areas for potential further improvements."
"Images reproduced with kind permission from Cambridge Fire Research".