» Imaging accreditation: Patient care in our own image
06 December, 2016

Guy's and St Thomas' NHS Foundation Trust (GSTT) provides a diverse portfolio of clinical services across three sites; Guy's Hospital, St Thomas' Hospital and Evelina London Children's Hospital.  The Trust employs around 13,500 staff, over 450 of whom belong to the Clinical Imaging and Medical Physics (CLIMP) Directorate.  This multidisciplinary Directorate offers an expansive inpatient and outpatient service, performing over 450,000 imaging examinations every year.
The Radiology service provides the full range of modalities across the three sites and has separate Clinical Leads for Diagnostic and Interventional Radiology.  Operating 24 hours a day for 365 days per year, the service is one of the largest in the country and is recognised as a leading European centre.  The Trust's Nuclear Medicine service holds a similar national status and provides diagnostic Nuclear Medicine imaging, osteoporosis screening and a comprehensive range of molecular radiotherapies.  The Medical Physics service covers medical equipment management, radiation safety as well as physics and engineering support for Radiotherapy, PET, Nuclear Medicine, Ultrasound and MRI.
GSTT has a strong collaborative relationship with King's College London (KCL) that brings together world-leading research, education and clinical training and practice within an integrated environment.  KCL's Division of Imaging Sciences and Biomedical Engineering (ISBE) is an interdisciplinary Division dedicated to the development, clinical translation and application of medical imaging technologies, including PET, SPECT, MR, CT and other imaging modalities.  It consists of five academic departments (cardiovascular, cancer, chemistry/biology, perinatal and health & biomedical engineering) and provides clinical services for GSTT and other NHS organisations.  Staff involved in imaging in both KCL and GSTT move seamlessly between the organisations.
Together, imaging staff across KCL and GSTT were accredited by UKAS for their Imaging Services. It is a patient-focused assessment and accreditation programme jointly owned by The Royal College of Radiologists (RCR) and the College of Radiographers (CoR).  Its aim is to help diagnostic imaging services ensure that their patients consistently receive high quality services, delivered by competent staff, working in safe environments.  As the national accreditation body for the UK, UKAS has been licensed by the RCR and CoR to manage and deliver accreditation.
Becoming the largest accredited service in the country, the two year collaborative project between GSTT and KCL reinforces the shared commitment of embedding quality improvement into everyday practice.  Professor Adam, Clinical Director of CLIMP at GSTT, said: "The excellent relationship between KCL and GSTT helps to deliver outstanding results to patients as well as being very productive academically.  Our UKAS accreditation is a wonderful recognition of the high standards achieved by this relationship and an appropriate reward for the hard work, dedication and enthusiasm of clinical, academic and administrative staff."
UKAS accreditation is the only nationally recognised scheme for diagnostic imaging services in the UK and is approved by The Care Quality Commission (CQC) for use in its hospital inspection methodology.  Outlining the reasons behind the decision to apply for accreditation, Georgina Charlton, project manager says "Accreditation offers a robust framework to follow that is in line with the best practice standards of our professional body.  It is also aligned with CQC standards and reflects the organisational culture and values of the Trust.  GSTT has a strong and established track record in delivering high quality clinical care, placing the patients at the heart of everything we do.  We have renewed this focus following the publication of the Francis, Berwick and Keogh reports.  This reaffirms our Showing we care strategy which is underpinned by our Trust's core values: strive to be the best, respect others, put patients first, act with integrity and take pride in what we do."
Together with South London and Maudsley NHS Foundation Trust (SLaM) and King's College Hospital NHS Foundation Trust, KCL and GSTT are part of the King's Health Partners (KHP) Academic Health Sciences Centre, one of only five such centres in the UK.  Successfully embarking on the UKAS accreditation process has benefited not only the KHP, but more importantly its patients, as Georgina explains:  "Our accreditation will provide an underpinning quality framework and will inform a strategic direction of travel across Imaging between GSTT and KCL imaging services.  Our continued commitment to accreditation will ensure that the quality of services we provide is both sustained and continually encouraged to grow."
UKAS accreditation is a rigorous and independent assessment of an organisation's competence against the performance criteria set out in the relevant standard/scheme.  Whilst preparing for and undergoing the assessment process may at first appear a daunting prospect, many organisations find that it delivers several unanticipated benefits.  Georgina said: "Going through the accreditation process provides an independent critical appraisal to support service improvement and development.  This facilitates innovative thinking, as it encourages you to look for ways to increase efficiency and effectiveness.  It promotes standardisation of practices, as it requires robust document approval and control processes to be implemented."
Like most UKAS accredited schemes, it works on the principle of continuous assessment operating on a four year cycle.  Georgina concluded: "Accreditation demonstrates our commitment to continuous quality improvement.  The ongoing performance monitoring of processes promotes consistency and fosters a culture of openness and transparency.  Our accreditation is the perfect complement to the development of our Transforming Outcomes and Health Economics through Imaging (TOHETI) programme which leads the way in the transformation of imaging services.  This aims to create models for future delivery of care across the clinical spectrum to ensure the right imaging test is performed at the right point in time for a patient."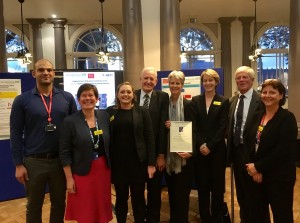 From Left to Right: Josef Habib, MR Clinical Research Facility Manager, King's College London;  Sarah Allen, Head of Nuclear Medicine, Guy's & St Thomas' NHS FT;  Georgina Charlton, ISAS Project Manager, Guy's & St Thomas' NHS FT; Paul Stennett, CEO, UKAS; Kim Robertson, Head of Radiology Services, Guy's & St Thomas' NHS FT;  Amanda Pritchard, Chief Executive, Guy's & St Thomas' NHS FT; Lord Lindsay, Chairman, UKAS; Bernadette Cronin, Associate Director, TOHETI and Director of Imaging Services, King's College London
Radiographer with new CT Scanner