I am delighted to announce that Matt Gantley has been appointed to succeed Paul Stennett MBE, the current UKAS Chief Executive, who retires at the end of August. Matt will commence his duties at UKAS on 1st September.
With 19 years' experience in the conformity assessment sector, Matt Gantley has a recognised track-record in delivering sustained growth and profitability. He has held key commercial and international leadership positions in Ascertiva Group and Certsure LLP, and is currently the Managing Director of NQA, a leading global conformity assessment body.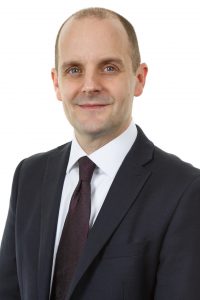 His core achievements include strategic and commercial development alongside international management in emerging markets, especially in India and China where he has held long-standing board positions in conformity assessment enterprises.
In the UK, Matt is the current Chair of the Association of British Certification Bodies and an active member of the Federation of Certification Bodies. Alongside this he has been a Non-Exec Director for Elmhurst Energy (Training/Certification), is a member of SSIP (Safety Schemes in Procurement), IOSH (Institution of Occupational Safety and Health) and IEMA (Institute of Environmental Management & Assessment). He has also been a regular contributor to events held by CQI (Chartered Quality Institute) and the former UK Trade & Investment. 
Matt's academic background includes a BSc in Biology from Nottingham Trent University and an MSc in Environmental Impact Assessment from University of Wales. During this time he studied and worked at the University of Evora, Portugal and the Federal Agricultural Research Centre (GFAR), Braunschweig Germany. He went on to bolster his business and commercial skills with an MBA at Manchester Business School, including studying at Shanghai Jiao Tong University. He was awarded the highest graded dissertation in Strategic Management and was welcomed back as a visiting Strategy lecturer, subsequently training over 400 Executive MBS students in the UK, China, Brazil and the UAE.  Through his time with Ascertiva and NQA he has developed a strong background in the delivery of executive development in the environmental, quality assurance and safety markets.  
The UKAS Board is pleased to have found a person of Matt's calibre and experience as Paul Stennett's successor. Matt's background, track-record and skills will take forward Paul Stennett's exceptional legacy of transforming and growing UKAS fourfold over the fifteen years of his leadership.
We greatly look forward to working with Matt to continue the UKAS strategy of constantly improving customer service and developing further new and innovative areas of accreditation to support businesses, healthcare and other public services, regulators and Government.