The Association for Respiratory Technology & Physiology (ARTP) has issued a position statement that recommends that all sleep and respiratory services should become IQIPS accredited to demonstrate compliance with professionally developed standards.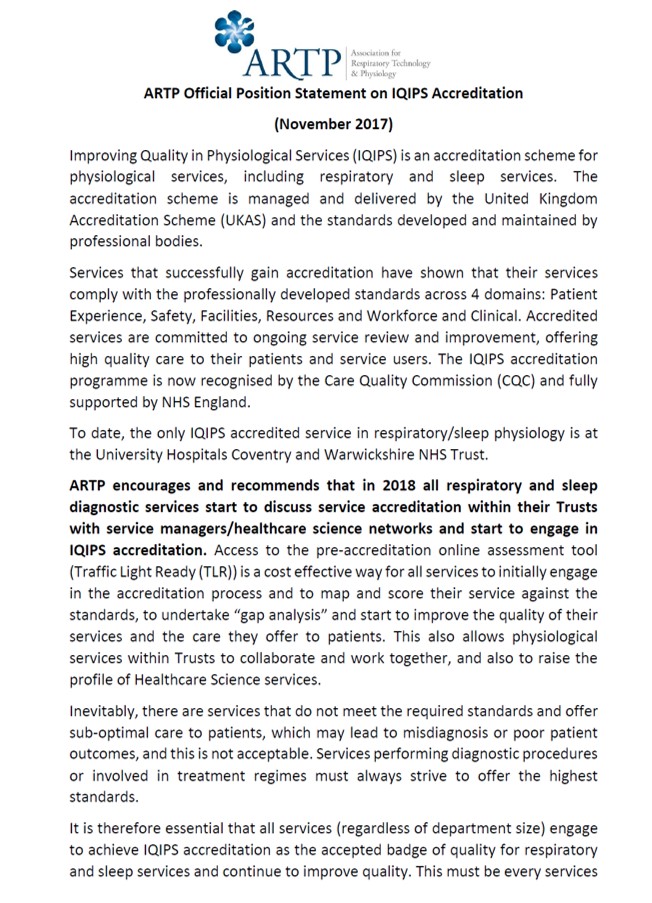 The statement encourages and recommends that in 2018 all respiratory and sleep diagnostic services start to discuss service accreditation within their Trusts with service managers/healthcare science networks and start to engage in IQIPS accreditation. It states that there may be services that do not meet the required standards and offer sub-optimal care to patients, which may lead to misdiagnosis or poor patient outcomes. Services performing diagnostic procedures or involved in treatment regimes must always strive to offer the highest standards. It is therefore essential that all services (regardless of department size) engage to achieve IQIPS accreditation as the accepted badge of quality for respiratory and sleep services and continue to improve quality. This must be every services responsibility to recognise the important work we do as healthcare professionals, and to continually improve standards.
A full copy of the position statement can be found on the ARTP website.  
This statement mirrors the position of other professional bodies, including the National Deaf Children's Society, the Society for Cardiological Services and Technology, and the British Cardiovascular Society. Further details can be found here.