UKAS has now accredited its 60th organisation against the Improving Quality in Physiological Services (IQIPS) standard.  The Outside Clinic has been granted accreditation for its adult audiology services, making it the first solely domiciliary service provider to be awarded UKAS accreditation for IQIPS.
Launched by the Royal College of Physicians and UKAS in 2012, IQIPS aims to improve services, care and safety for patients under-going physiological tests, examinations and procedures.  Solely managed and run by UKAS since April 2017, accreditation for IQIPS is assessed against professionally devised standards which address four core quality domains:  Patient Experience, Clinical, Safety and Facilities, Resources and Workforce.
Eight physiological disciplines are encompassed within the IQIPS standard; audiology, cardiac physiology, gastrointestinal physiology, neurophysiology, ophthalmic and vision science, respiratory and sleep physiology, urodynamics and vascular science.  Covering both public and private providers, the majority of organisations accredited against the IQIPS standard are audiology services, however accreditation has also been granted to vascular, cardiac, gastrointestinal, neurophysiology, and respiratory and sleep services.  A programme to roll out accreditation to all disciplines is currently underway and UKAS is seeking applications from interested service providers.
On receiving the award, Richard Gibson, Operations Director at the Outside Clinic said:  "Our journey to UKAS accreditation started back in February 2015, when we were invited to explain the scope and challenges of providing domiciliary services at a meeting of the Accreditation Clinical Advisory Group, UKAS and RCP.  Following several years of hard work by everyone involved, we are incredibly proud to be the 60th recipient of IQIPS accreditation, as we were instrumental in helping to shape IQIPS so that it meets the needs of domiciliary patients, who are often very vulnerable."
Paul Stennett, UKAS CEO said:  "Many congratulations to all the clinical, compliance and quality staff at The Outside Clinic on achieving becoming the 60th service to achieve UKAS accreditation under the IQIPS programme.  UKAS accreditation already underpins the quality of a wide variety of healthcare services and is seen as a badge of honour amongst professionals.  Accreditation to the IQIPS standard provides confidence to the commissioners, consultants and most importantly users of physiology services that the highest standards of care are available with patient quality outcomes at its core."
The value of IQIPS is acknowledged by the Care Quality Commission (CQC), which recognises IQIPS as an information source that supports its inspections.  The scheme is also supported by NHS England and sponsored by Professor Sue Hill, Chief Scientific Officer NHSE.  In its "Listen Up!" report, the National Deaf Children's Society called for all paediatric audiology services to be UKAS accredited.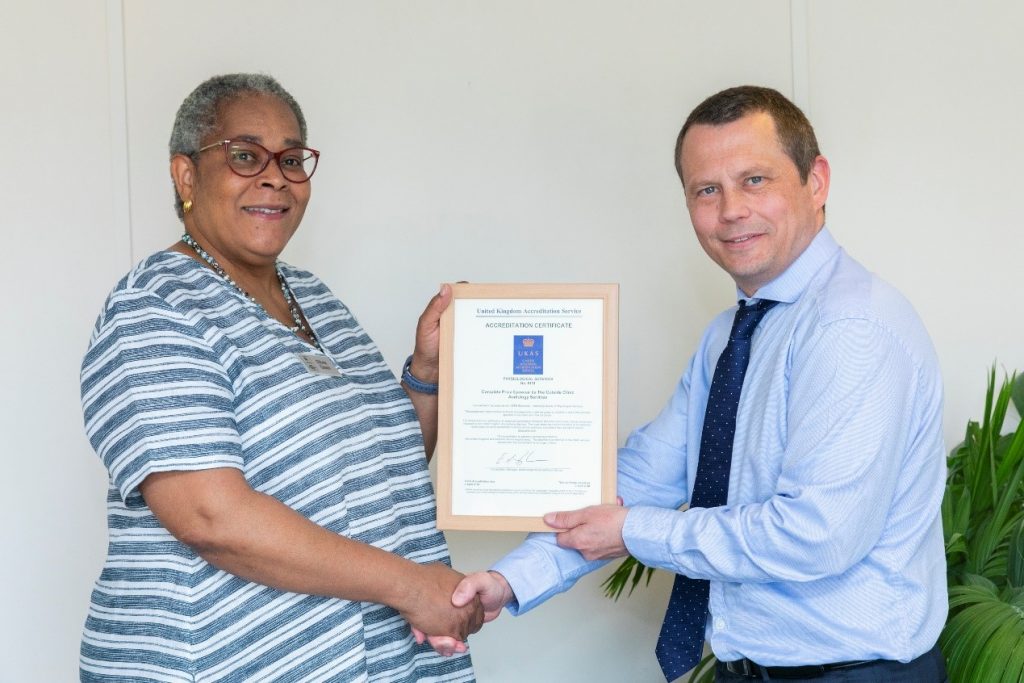 Ethna Glean, UKAS, Accreditation Manager; Richard Gibson, The Outside Clinic, Operations Director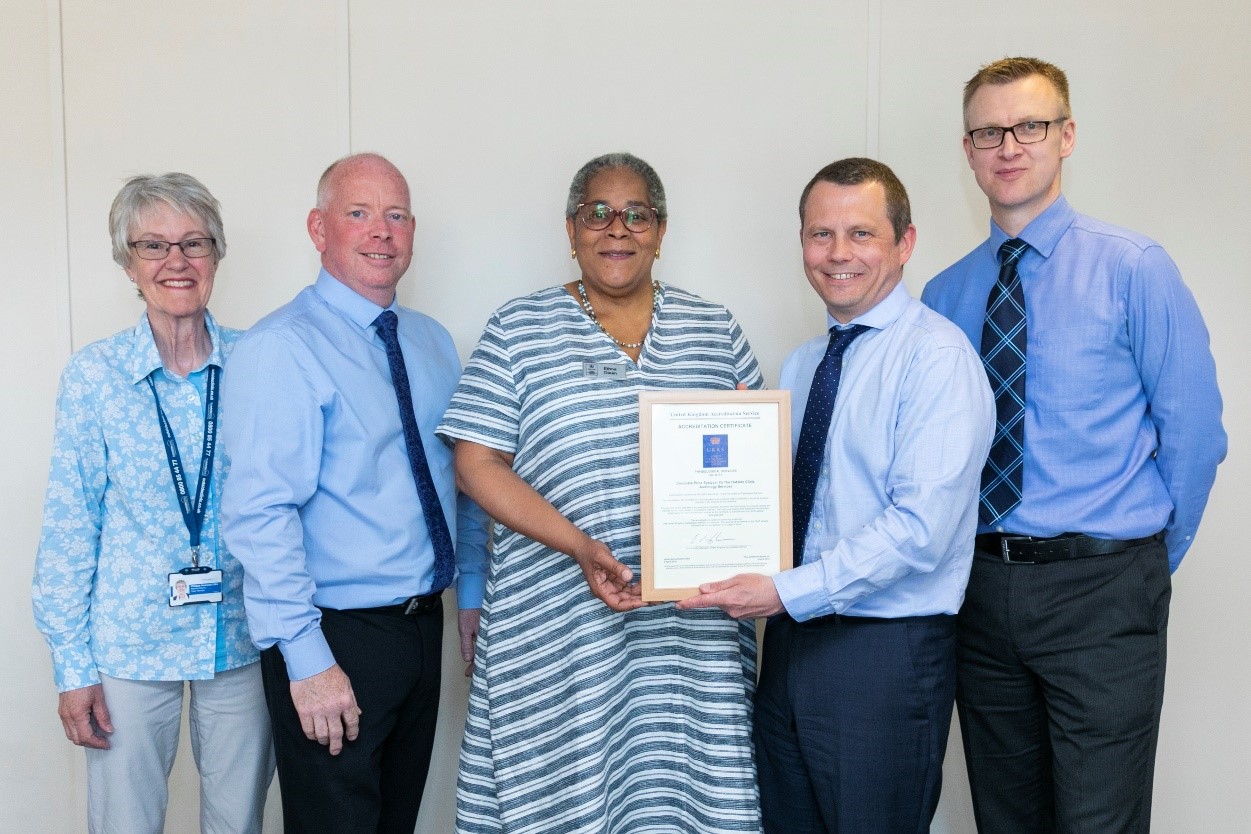 L-R: Philippa Harwood-Little, The Outside Clinic, IQIPS Lead/Quality/Compliance; Ian McKendrick, The Outside Clinic, Audiology Clinical Lead; Ethna Glean, UKAS, Accreditation Manager; Richard Gibson, The Outside Clinic, Operations Director; Nick Wingate,  The Outside Clinic, Professional Services Director.