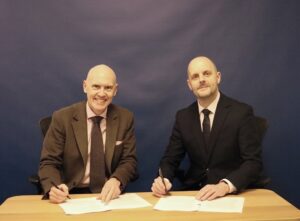 The ability to trade across borders is vital to the UK's success. To do so, businesses need to understand the rules-based system of trade and to have confidence in market frameworks based on standards and accredited conformity assessment. In signing this Memorandum of Understanding, the United Kingdom Accreditation Service and the Institute of Export and International Trade have agreed to strategic cooperation in sharing knowledge and supporting the dissemination of good business practice.
UKAS CEO, Matt Gantley commented on the signing of this agreement: "UKAS, the UK's National Accreditation Body, is delighted to sign this Memorandum of Understanding with the Institute of Export and International Trade. It furthers UKAS's strategic mission to build a world of trust and confidence and develops the shared goal of our two organisations to enable global trade through the provision of effective supporting frameworks.
In particular, I look forward to working with the Institute in the development of digitised solutions to conformity issues in cross-border trade."
The image shows Marco Forgione, Director General of the Institute of Export & International Trade (IOE&IT) signing the agreement with UKAS CEO, Matt Gantley. You can find out further detail about this MoU on the IOE&IT website.