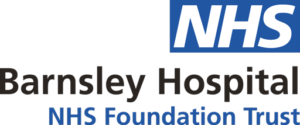 The Audiology Department at Barnsley Hospital NHS Trust achieved accreditation against the IQIPS Standard in 2014. The hospital is a 350+ bed hospital and serves a population of over a quarter of a million people in the Barnsley area. Situated within Outpatients, the Audiology Department comprises of a team of nine qualified Audiologists, two Assistant Audiologists and a full-time clerical officer. They fit around 1000 new adult patients with hearing aids a year and have specialised clinics for people who have hearing, balance and tinnitus.

Here Liza Smeeton, Head of Audiology, provides some insight into their experience of their recent UKAS remote assessment:
Change of plan – the new format
The original plan had been for a UKAS Assessment Team to come on site for a day to review our documentation and observe staff undertaking certain appointments. However, with the Covid-19 outbreak that was not possible so instead, a remote assessment plan was developed. The format of the assessment worked really well. The Assessment Manager had a video consultation with myself for the day, asking me questions around policy and process, whilst the Technical Assessor had scheduled telephone calls to speak with staff to discuss how they carried out appointments and to check on the development opportunities available to them.
The reality of our remote assessment
The approach to assessment was different in that the assessor couldn't physically watch us undertaking appointments so instead, we talked through every step and the different types of scenario. I think one advantage of this was that our Assessment Team had the opportunity to speak to all of our staff, even our apprentice, whereas on a normal visit it might be only two or three people. Our staff felt able to be open and honest with the team and felt more relaxed about the process.
I was working from home during the assessment so the biggest challenge we faced was not being able to access all work files. It wasn't a big problem though as I just kept writing down the things that the assessor wanted to see and what I couldn't get during the breaks, I submitted electronically later. I can see that if I had been at work then it would have been so much quicker and easier to access the documents and share my screen with the assessor there and then.
On reflection
Overall, I felt we had a very fair assessment and it felt like we were given time to explain why we do things a certain way. There were some recommendations and findings but that's helped us to develop and improve further, which is what it's all about. I think it really helped that the assessment team had been to my department previously, so they were able to visualise us and how we work and also, we felt we knew them which was nice.
Would I do it again? Definitely. It worked really well, saved time on travel and felt like a better use of time for me personally but most importantly, we still felt that we had the same level and quality of assessment. I had been worried what would happen to our accreditation if we couldn't be assessed but the remote assessment was offered as an option very quickly. It's good to know that we can all pull together and work differently when we must through necessity but if things work, like this did, then we should remember what worked well and continue to work in this way in the future. I believe that lots of good things will come from this pandemic if we choose to change and adapt and keep what works, and this most certainly worked well for us."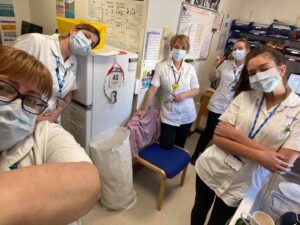 Pictured above: Some of the Audiology Team at Barnsley 
including Lesley Durden, Nicola Lindley, Debbie Evans, Laura Knowles & Eve Gregory