One Stop Doctors in Hemel Hempstead, Hertfordshire has become the 30th organisation to receive UKAS accreditation against the requirements of the Imaging Services Accreditation Scheme (ISAS).   
Opened in September 2016 as a brand new innovative healthcare facility, One Stop Doctors provides a range of clinical, diagnostic and wellbeing services.  A number of the Clinic's diagnostic imaging services are covered by the UKAS accreditation, including radiography, ultrasound, mammography, CT, MRI, bone mineral densitometry and PACS.
Launched in 2010 as a joint initiative by the Royal College of Radiologists (RCR) and the Society and College of Radiographers (SCoR), ISAS was developed to help diagnostic imaging services providers ensure that their patients consistently receive high quality services, delivered by competent staff, working in a safe environment.  Initially focusing on four quality domains of patient experience, clinical, safety and facilities, resources and workforce, the ISAS standard was updated in 2017 to add a fifth domain of leadership and management.  The United Kingdom Accreditation Service (UKAS) manages and delivers accreditation for ISAS on behalf of RCR and CoR.
Operating as an innovative healthcare hub, One Stop Doctors' primary aim is to provide high quality patient care, while becoming a valued member of the local healthcare community.  David Lawless, Diagnostic Imaging Manager commented:
"Everyone in the team here is delighted to achieve this recognition.  We work extremely hard to give patients the best possible experience and we are committed to providing a valuable service to local GPs, hospitals and of course, the people across Hertfordshire, Bedfordshire, Buckinghamshire and North London who need rapid access to high quality imaging."
Tammy Murchison, Lead MRI Radiographer commented:
"As Clinical Lead in MRI, I am acutely aware of how important it is to have robust processes and in embedding current best practice.  From the beginning of the ISAS project we sought to fully implement the accreditation throughout all aspects of Imaging at the Clinic.  As a new company, ISAS sets a valuable benchmark, not just for us in imaging, but for One Stop Doctors as a whole.  Our team are completely engaged with the ISAS Standards and continue to contribute, via reflective practice and audit, to ensure high quality of care is maintained for both clinicians and patients." 
Paul Stennett, CEO of UKAS said:
"Congratulations to all the imaging staff at One Stop Doctors on becoming the 30th service to achieve UKAS accreditation for ISAS services.  As a viable alternative to regulation, accreditation is a proven mechanism for delivering safe, accountable and sustainable services that offer value for money.  Accreditation to the ISAS standard provides confidence to patients, imaging professionals and commissioners that the highest standards of care are available."
ISAS is the only nationally recognised accreditation scheme available for diagnostic imaging services in the UK.  It is approved by CQC for use in hospital inspection methodology and strongly endorsed by NHSE.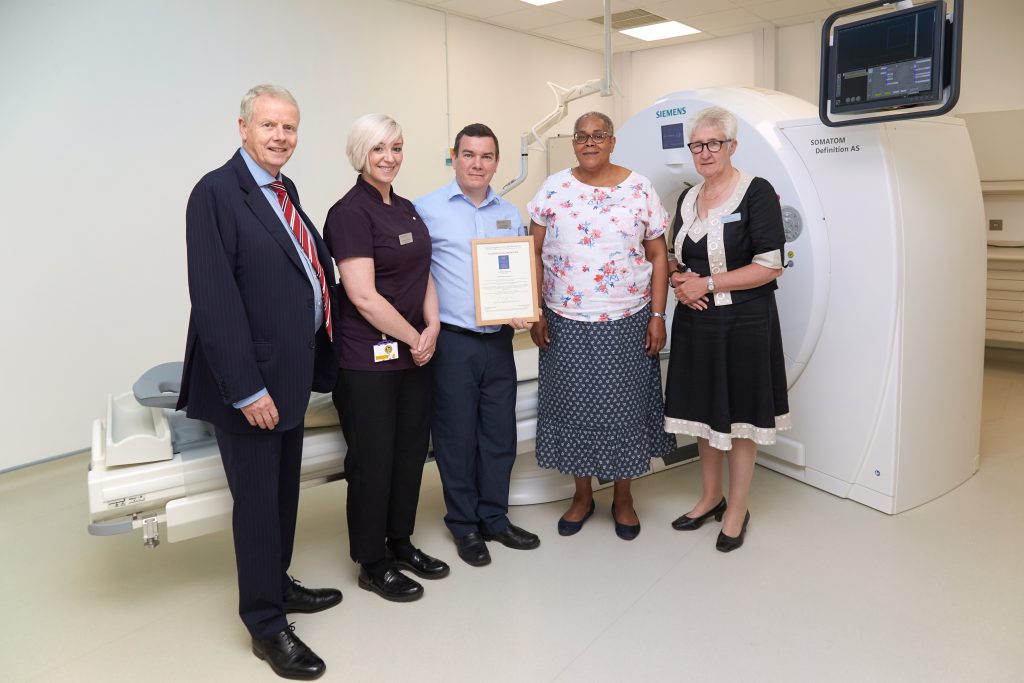 Ethna Glean, UKAS Accreditation Manager for ISAS, presents Certificate of Accreditation to staff at One Stop Doctors.