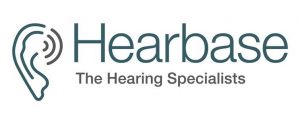 Improving Quality in Physiological Services (IQIPS) is a professionally-led assessment and accreditation scheme that ensures patients receive consistently high quality services, tests, examinations and procedures, by competent staff working in safe environments. Managed and delivered by the United Kingdom Accreditation Service UKAS), IQIPS is developed and owned by the professional bodies that represent the eight recognised physiology disciplines; audiology, cardiac physiology, gastro-intestinal physiology, neurophysiology, ophthalmic and vision science, respiratory and sleep physiology, urodynamics and vascular science.
The IQIPS standard is fully endorsed by NHS England and UKAS accreditation closely aligns with Clinical Commissioning Groups (CCG) objectives of driving up the quality of care for patients, whilst delivering efficiency and productivity. Being accredited by UKAS to the IQIPS standard is a pre-condition for achieving Any Qualified Provider (AQP) status from CCGs, allowing NHS patients a choice in who they are referred to by their GP.
Hearbase is Kent's largest independent hearing company and has been providing hearing and balance healthcare services across the South East for over 25 years.  During that time the company has grown from an initial two audiologists to over 40 specialist members of staff, from across the UK and Europe.  The average age of its patients is 72 and to date it has treated some 20,000 patients, split roughly equally between the NHS and private healthcare sectors.
Following several months of pre-assessment consultation, Hearbase formally applied for IQIPS assessment in November 2018 and was successfully granted UKAS accreditation to the IQIPS standard for its adult audiology services at the beginning of July 2019.  Hearbase's original founder and Managing Director is Mark Scutchings, an audiologist with over 30 years experience of treating adults and children.  Outlining the value and importance of the IQIPS scheme Mark said: "IQIPS is a nationally recognised and prestigious award that is a professionally respected signifier of quality.  It marks the service provider out from the competition and raises standards of entry for all physiological healthcare providers, which in turn increases the standard of care that patients receive.  In addition to recognising our commitment to clinical quality in audiology, achieving IQIPS accredited status from UKAS demonstrates our focus on patient care, to both our service users and professional partners."
Business benefits
As well as raising standards of patient care, there are sound commercial reasons for going down the IQIPS route, as Mark explains.  "Before we were IQIPS accredited Hearbase was a small company that was doing well.  We wanted to grow and expand the business in line with our potential and ambition, particularly in public healthcare.  IQIPS has allowed us to increase turnover by around 30%, transforming us from a small local company into a medium sized regional one."
After meeting Jason Walker, an independent IQIPS consultant and project manager, on a UKAS run IQIPS awareness course, Mark hired Jason to help guide Hearbase through each step of the accreditation process.  Having successfully reached that milestone, Jason is helping Hearbase realise the potential that being UKAS accredited can offer an IQIPS provider.  Building on Mark's comments about business development, Jason said:
"Although Hearbase is the largest NHS hearing services provider in Kent, Mark and I are looking at ways to expand Hearbase's services throughout the South East, but realised we were behind in terms of London CCG contracts.  Gaining accreditation to IQIPS is proving to be a real door opener, as it means we are able to present at both GP federation and CCG meetings.  Helped by the increased access to healthcare commissioners that IQIPS provides, we were able to successfully convert those meeting opportunities into new AQP contracts for Hearbase with several London CCGs."
Improving internal operations
The private and NHS sides of Hearbase's business are run as separate divisions, with no patient cross-over between the two sides.  Although being UKAS accredited is a pre-condition for tendering for NHS/AQP contracts, the private patient division is also benefitting from the IQIPS award.  James Gibbs is Head of Operations at Hearbase and has been working at the company for 3 years.  James said: "Applying for IQIPS for the NHS side led us to review every aspect of our service and processes in minute detail, requiring a great deal of time and effort.  In addition to taking a wider view of the company, it made sense to apply the auditing, process and service improvements across the whole business, so that both NHS and private sector patients can benefit from a higher quality service."
Improving the standard of patient care is the raison d'etre of the IQIPS scheme.  However, being accredited to IQIPS has also enhanced the day to day internal operations of the company, as James explains:  "In addition to increasing the quality of our service, going through the IQIPS scheme has benefitted our staff, both in terms of more efficient and effective processes and increased professional development.  Before reaching the IQIPS standard our training was conducted on an individual and ad hoc basis.  Reaching the IQIPS standard has pushed us into formalising and standardising all aspects of our training, improving professional development and staff morale."
Gaining UKAS accreditation to the IQIPS standard has also lessened the administrative burden when it comes to dealing with CCGs.  This is saving Hearbase both time and money and allowing it to focus on its patients.  James concluded:  "Part of providing NHS services to CCGs is submitting a quality review report on a quarterly basis.  These reports can be very detailed and time consuming to compile, often resulting in a document over an inch thick.  Now that we have reached the IQIPS standard, CCGs are assured that all the necessary processes are in place and that we are delivering a quality service.  Consequently, our quarterly quality reports now only need contain the essential summary information, reducing their size considerably to just a few sides of A4.  This means we can devote more of the working day to seeing and treating patients."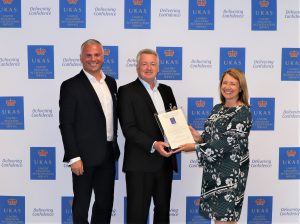 Jason Walker, IQIPS  Project Manager, & Mark Scutchings, Managing Director, from Hearbase, receiving their UKAS Certificate from Lorraine Turner, UKAS Business Development Director.