3 mins read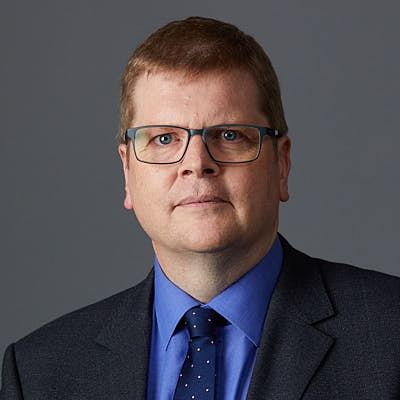 In his article for this year's Annual Report, Operations Director Paul Greenwood, talks of the challenges and opportunities facing the UK's National Accreditation Body in a fast-changing world.
Incorporating new technologies, methods and thinking into operational processes is an essential element in maintaining our status as a world leading accreditation body.  The COVID-19 pandemic necessitated a shift to remote assessments to enable organisations to maintain accreditation whilst government-imposed restrictions on movement were in place.  As part of our transition to the age of the fourth industrial revolution, UKAS was already in the final stages of fine tuning its remote assessment programme when the pandemic struck, so accelerated implementation was relatively straightforwa1rd. 
The philosophy and use of remote assessments are nothing new to the sector, with it already being undertaken in difficult to access locations – St Helena for example where travel times to reach site are especially onerous.  Despite the change in timescales, structure and format necessitated by remote assessments, the fundamental purpose, processes and principles of the assessments remained the same; namely giving conformity assessment (CABs) the opportunity to prove their technical competence as part of a robust quality management system.  The underpinning administrative tasks, such as utilising technical expertise to evaluate the evidence collected, production of reports and granting of accreditation, also remained largely unaffected. 
As outlined by Marcus Long, the shift to remote assessments proved a success with both UKAS and its customers, with staff adapting well to new working conditions.  After a short adjustment period to the 'new normal', many CABs are looking to accommodate remote assessments into their ongoing accreditation programme.  Accreditation regulations (along with some international regulations and individual scheme criteria) do however require UKAS to conduct a degree of onsite assessment during the four-year accreditation cycle.  Whilst COVID-19 certainly qualifies as an exceptional circumstance to this rule, many customers are now overdue an onsite visit. 
Individual CABs have different policies, procedures and personnel to perform their accredited activities.  UKAS is currently trialling a risk-based assessment project to establish the quantity and type of assessment required for each CAB.  Indeed, there are some industries and instances where onsite face-to-face visits are more effective in supporting an independent assurance of technical competence.  Taking all these factors into account, we are likely to see a more risk-based approach to accreditation assessments going forward, utilising a blend of remote/onsite assessments. 
Personnel are a vital part of technical and operational excellence and UKAS is justifiably proud of all its staff.  UKAS has grown significantly in the past year, particularly into new sectors such as COVID-19 testing and the introduction of the UKCA quality mark.  As a result, recruitment has been accelerated with UKAS recently exceeding 300 full time members of staff working together with over 800 specialist contracted technical assessors and experts. 
Whilst it is reassuring that the numbers of staff choosing to leave UKAS remains below industry norms, some degree of turnover is inevitable and is a healthy part of any organisation.  Incoming staff bring additional expertise, experience and perspectives gathered from a wide range of industries, increasing UKAS's technical knowledge and providing an opportunity to revisit processes and refresh induction and training programmes.  Equally, departing personnel have a detailed knowledge and understanding of the benefits of accreditation and help to embed best practices and a quality-centric philosophy into the industries they return to. 
In summary, although the previous year has been full of operational challenges and opportunities, UKAS continues to innovate and improve agility whilst retaining its focus on ensuring technical rigour.