Our Training Specialist Dan's experience of remote working following Covid-19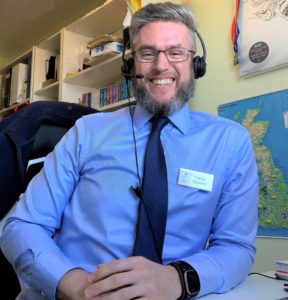 How have you as an individual managed working from home during Covid-19?
I've been privileged to work as an Assessment Manager for UKAS since 2018 so part of my role has always been "remote". This has prepared me for this scenario as I was able to develop working practices and routines that felt embedded when UKAS took the decision to have remote working practices only.
I try to set times aside for non-working aspects, for example setting up coffee mornings with friends or colleagues which help normalise this current lifestyle. I also take time to wander and fire gaze (read the book "Why men don't listen and why women can't read maps").
Exercise helps. Even if it's walking around the garden, up and down stairs, Joe wicks workouts or bicep curls with tins of beans. The published/documented evidence how this benefits your health and wellbeing is everywhere, but if science doesn't convince you then just think if Captain Tom can do it anyone can.
Have something you look forward to, for me, it's nice coffee and my fave bag of crisps.
Essentially working from home full time can be an adjustment for anyone but it's important to remember this is still your home. Downing tools at the end of the day needs be a mindful and active exercise so you don't take it all back into the home.
What software has worked best for you?
There are so many little gadgets, apps and gizmos that have been beneficial for me. MS Outlook has been invaluable in enabling me to manage both my roles – from effectively communicating to assigning actions, deadlines and reminders.  Recent implementation of MS Teams has proved to be a great collaborative platform to collate project work and have a good (virtual) face-face with my team.
Outside of work, Fitness Apps have benefited me to ensure my wellbeing is kept high on the agenda.
How have you maintained good communication with peers?
In addition to emails and phone calls we have set up a WhatsApp group for the non-work aspects of UKAS, almost a sharing/normalising channel. We have daily team updates which have been important for continuity. It has been good to see faces, have a brief check-in and not just focus on the work aspects.
What challenges have you faced and how have you successfully overcome these?
Without a doubt, it's achieving remote and virtual delivery of my roles. One aspect is delivering the accreditation of services under ISO 15189. Whilst I have not been conducting site visits since 23rd March, I'm still managing customer expectations and closure of assessment projects. Communication with customers been challenging but I feel that transparency and sincerity have been key in managing relationships and I have been pleased to receive positive feedback. Throughout my career in Healthcare, I have been amazed at the work that NHS staff in diagnostic services deliver to patients and users before the recent challenges. And I continue to be humbled by the "can-do" attitude of the ISO 15189 customers I'm supporting during these difficult times.
My new role as trainer has seen a drive to push our internal induction programme and external training courses to remote/virtual platforms which have been a significant challenge. The management of this has been achieved by collaborating with the training team, HR and the wealth of knowledge from fellow Training Specialist Marla Loughborough and the various subject matter expert and trainers across UKAS.
How have you managed to keep the same level of service or provided better?
Working on the induction programme was an experience that certainly developed my awareness and skills in the platform to deliver material remotely. Without the expertise of my colleague, Marla Loughborough, the new assessment managers would not have gained the level of knowledge they did. I gleaned a lot from her and them during this process. We had a few connectivity hiccups (like everyone!) but the feedback was great and our new colleagues should have a solid understanding of the foundations of UKAS and the accreditation processes.
Implementation of a virtual training has empowered us to successfully adapt the UKAS academy training courses to deliver content which is comparable to the face to face experience. I have been highly involved in adapting the ISO 15189 Assessor training course and Laboratory internal audit training course for delivery on the Adobe Connect platform. This appeared daunting at first but through development of the training material, it's evident the functionality of this programme should deliver a high level of interactivity for our delegates. What is exciting is that this now future proofs us for offering an alternative delivery mechanism for those who can't attend face-face training. It allows us to continually develop courses to meet customer needs alongside accompanying webinars and e-learning packages.
What are the benefits of working from home?
There are many benefits, the main being actually knowing that I'll be home with my partner. My previous role involved lots of travel and site assessments which meant we may go a week or more before having a real chat or face-face. My partner is a key worker so working from home allows me to support her with a cuppa, food ready for when she lands or just a catch-up.
The flexibility in working hours in another bonus and the support and trust of my manager means I'm more functional than if I had a rigid "9-5" (although I don't think anyone really works this at the moment).
The largest benefit for me in working from home is that I enjoy it. I have a good work ethic and systems in place to ensure I'm functional and productive, I love my home and being in it. But really, who hasn't fantasied about being able to skip the whole rigmarole of the commute and have some instant Star Trek-esque teleportation into the office?