A report issued by the construction industry's Competence Steering Group (CSG) is recommending the use of UKAS accredited certification to ensure the competence of personnel involved with High Risk Residential Buildings (HRRBs).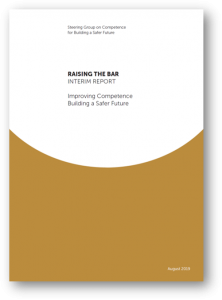 The CSG was established, under the leadership of the Construction Industry Council (CIC), to address the criticisms and recommendations relating to competence laid out in the final report of Dame Judith Hackitt's Independent Review of Building Regulations and Fire Safety.  The CSG's report, issued on 16th August, recommends that all HRRB personnel are registered to a recognised professional body or certified by an independent certification body.  The report goes on to advocate that those bodies carrying out the competency assessments of HRRB personnel should themselves be subject to rigorous oversight by an appropriate body, such as the Engineering Council or UKAS.
In addition to endorsing a system of UKAS accredited certification, the CSG's report also calls for Government support to ensure that all the relevant organisations and individuals covered by HRRB regulations demonstrate their competence in the prescribed manner.
Welcoming the CSG's report, Hugh Taylor, UKAS External Affairs Divisional Director, said.  "When it comes to high risk residential buildings, such as high rise tower blocks, it is essential that those individuals working on them have the appropriate skills, knowledge and experience to do so safely and effectively.  UKAS is pleased to see that the CSG's report recognises the valuable role that accreditation plays in delivering confidence in the competency assessments of the designers, specifiers, installers and other professionals who together construct and maintain HRRBs.  UKAS is continuing to work closely with the CIC, Engineering Council and other key stakeholders to help finalise the definition of competence for working on HRRBs, and to develop a suitable programme for implementing all the necessary assessment and accreditation procedures."
A full copy of the report, which is open for consultation until 18th October 2019, can be found here.
UKAS accredited organisations are invited to consider responding to the consultation in support of the proposals for the greater use of accredited certification. Accredited organisations wishing to be involved in the developments of any new certification schemes that emerge from this work should register their interest with [email protected].